Hero Image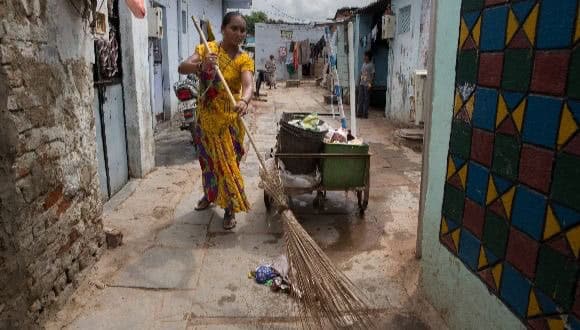 This International Workers' Day, the future of work has arrived as a hot topic. New technologies, globalization and major advances in artificial intelligence have generated debates over what jobs will look like, where they'll come from, and what role they may play in reducing inequality.   
Yet these discussions can paint a distorted picture of global employment. While they rightly identify technology as a major driver of change, they also obscure the limits of advanced technology's reach. In the informal economy, where 61 per cent of the world's workers are located, basic technologies still prevail, but innovations abound. It is these other forms of innovation — from adaptations at the workplace to new forms of organizing — that hold immediate potential for improving the quality of work for the 853 million people who find themselves in working poverty.
Indeed, as exciting as 'robot density' is as a measure of what's to come, what's more critical is the acknowledgement that livelihoods can be strengthened in ways that have little to do with robots. Addressing basic deficits in housing and infrastructure, for example, would improve productivity for home-based workers, who number more than 37 million in India alone. Even patching leaky rooftops and improving drainage in order to protect raw materials and finished goods from rain would go a long way towards addressing the key issues facing home-based workers. These types of innovation paint a different picture for the future of work — one that more accurately reflects the global state of employment.
Changing the Way We See Self Employment
As we consider the future of work, we must also understand self-employment as a central component of that future. Half the world's workers are self-employed at present. As much as decent work in wage employment is an obvious priority, economies are not keeping up with the need for good wage jobs — meaning that until they do, we must also find ways to support the self-employed.
Here again, we can find simple, low-cost innovations. Some are about improving the physical workplace: leveling the floors of houses in informal settlements, for example, can lead directly to health improvements for women who work at home. Others are about strengthening self-employed workers' knowledge of their basic rights, as in the case of South African street vendors' training in administrative law. And beyond the strictly self-employed, there are also low-cost innovations in cooperatives, including the essential work of developing better childcare models.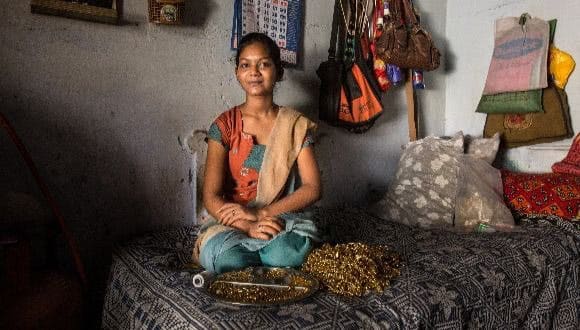 Nikita Yadav makes makes beautiful decorative hangings from her small, dimly lit one-room home. Despite her challenging working conditions, she earns 1,000-1,200 rupees per dayincome that helps support her family. Nikita learned how to better target her products toward different markets after attending a training session for home-based workers run by the Self Employed Women's Association (SEWA), a trade union for poor, self-employed women in the informal sector, and Mahila Housing Trust (MHT), a NGO that improves the housing conditions of poor, informally employed women. Photo: Paula Bronstein/Getty Images Reportage
Linking Informal Livelihoods and Cities 
The future of work debates also need to address the role of cities, especially when considering strategies for strengthening livelihoods. Most informal workers use homes and public spaces as their workplaces. Where city governments are able to develop more inclusive models, the road to better incomes clears.
Take Colombian waste pickers, for example. Working within a unique coalition of civil society organizations, academic researchers and committed city officials, waste pickers' cooperatives developed a model for a payment system that would pay their members for the environmental service they provide to the city. As of last week, ten municipalities have replicated the model; the most recent municipality's waste pickers are mostly in old age and without pensions, so the payment model means immediate relief. The model represents a form of innovation that has grassroots organizations at its core — which is why it works.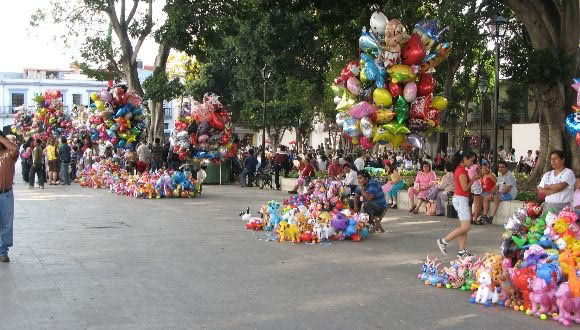 Street vendors in Mexico use public space to vend their wares. Photo: D. Tsoutouras
Strengthening Women's Leadership in Workers' Organizations
Above and beyond the more immediate wins, a brighter long-term outlook on the future of work will depend on strengthening women's leadership. Informality disproportionately affects women, and women in informal employment face multiple disadvantages as women, as workers, and as members of disadvantaged communities. Strengthening leadership matters. Nowhere is this more evident than the domestic workers' movement, where the International Domestic Workers' Federation is making steady gains. The home-based workers' movement continues to expand, most recently in Latin America where a new coordinating body was formed last year.
Low-cost innovations — whether at the workplace or in the domain of organizing — can have a transformative impact on the lives of the working poor. The handful of examples above implies that any global picture of the future of work needs to think beyond robots if we are to discuss realistically what is possible. We're at a pivotal moment; as the International Labour Organization enters its centenary year, it's essential that all of the world's workers are included in these debates. Only then can we imagine a more secure future for the global workforce.
Feature photo: Sangeeta Ben walks her daily route working as a waste picker in an Ahmedabad slum. She provides an essential door-to-door collection service for 240 households and a hospital in the neighbourhood, helping to keep the area clean. Mahila Housing Trust (MHT), a NGO that improves the housing conditions of poor, informally employed women, helped organize the collection service so that Sangeeta now earns a regular income of 5,000-7,000 rupees per month. Photo: Paula Bronstein/Getty Images Reportage
Para leer este artículo en español, mirar aquí.
Related Posts
Informal Economy Topic

Language
Wiego on Twitter