Hero Image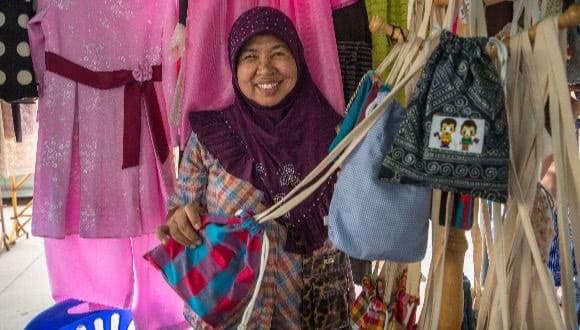 By Carlin Carr
At a bustling Bangkok market, vendor Aurapin Sakvichit happily greets customers interested in her wares: pink dresses, designer-style tops, and colourful cotton bags. Aurapin knows the routine; she's been at it for decades.
She says she enjoys everything she does with her work, despite its challenges. "I love crafting. It doesn't matter how much I earn."
That's an attitude that's changed since her children have grown up and she doesn't carry the same pressures to balance both providing for them and watching over them as a single mother.
When Aurapin and her husband divorced over 20 years ago, she had to devise a way to take care of herself. Many women in her area were earning an income from their homes to supplement the family's earnings. She learned to stitch and eventually began exporting embroidered garments to other Muslim communities in Saudi Arabia and Malaysia. Her business boomed, and at the height of it, she had 40 women working for her. Now she has just three.
BANGKOK, THAILAND: Aurapin Sakvichit (left) poses with Areewan Rotsattra (right), showcasing the clothing they sell at a local market. Photo: Paula Bronstein/Getty Images Reportage.
While the ups and downs of home-based work have been challenging, she found solidarity in her struggles. Six years ago, Poonsap Tulaphan from HomeNet Thailand came to her community to ask them to join its network with other home-based workers. Aurapin did, and says she's valued the training she's received in accounting and in laws that can protect her as an informal, home-based worker. She is part of the Garment and Leather Cooperative. The advantage is that if one group earns work, then they distribute it to others in the cooperative. This provides more opportunities for steadier work and earnings.
"Now that I'm part of a cooperative, I have more confidence in my business," says this home-based business woman, "and I have people to consult and share with."
Read more about home-based workers.
Featured photo: Paula Bronstein/Getty Images Reportage.
Related Posts
Informal Economy Topic

Occupational group

Region

Language
Wiego on Twitter