Hero Image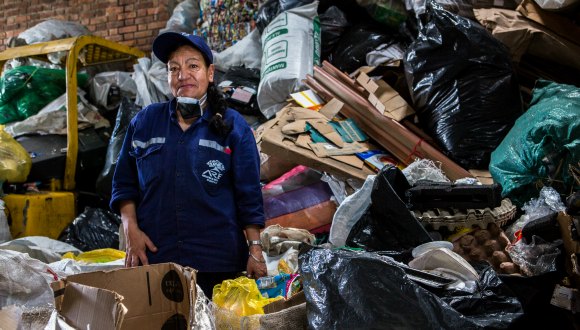 The fact that waste pickers are capable of voicing their concerns, responding to challenges, and contributing to cities and to the urban economy is very often ignored. The recently released Informal Economy Monitoring Study's (IEMS) comparative report for waste pickers has brought to light evidence that shows how relevant these workers are to urban solid waste management in cities across the Global South.
Focus group Facilitator and participants collectively discuss waste pickers' daily challenges. Photo: S. Dias
Participatory tools allow participants to express their knowledge of the sector. Photo: S. Dias
The IEMS examined the driving forces that shape waste pickers' working conditions, their responses to these drivers, and the institutions that help or hinder their responses across five cities – Belo Horizonte, Brazil; Bogota, Colombia; Pune, India; Nakuru, Kenya; and Durban, South Africa. Waste pickers are one of the three urban informal worker groups – along with street vendors and home-based workers – who are the focus of the 10-city Informal Economy Monitoring Study. Quantitative and qualitative data were collected in close collaboration with waste pickers' membership-based organizations (MBOs) in each city.
In addition to using a combination of qualitative and quantitative methods, one of the unique features of the IEMS is the fact that the research was framed to meet, as much as possible, the needs of our partners at the local level and also sought to make the field work process empowering on its own. In Pune, India, for example, the waste pickers' union Kagad Kach Patra Kashtakari Panchayat (KKPKP) stressed how the preliminary findings enabled them to look more closely at membership in the union's affiliate, SWaCH – India's first wholly-owned cooperative of self-employed waste pickers. The IEMS gave SWaCH data on dues-paying cooperative members versus unofficially registered but active members – statistics that the coop considers in strategic meetings.
Tools encouraged collective and respectful discussions among participants. Photo: A. C. Ogando
IEMS research techniques created room for everyone to express their views. Aline, a waste picker participant, was surprised by how much she participated. "I really liked this! I never, never, never spoke so much!" she said. Photo: S. Dias
In Belo Horizonte, the NGO Instituto Nenuca de Desenvolvimento Sustentável (INSEA) and the waste pickers' networks Redesol and Cataunidos reported how the participatory research has empowered them as membership-based organizations working on the ground to improve the lives of waste pickers. The data clarify the struggle for appropriate public policies, and, during focus-group discussions, MBOs gained a better understanding of their members' critical needs when waste pickers had an opportunity to voice their concerns. The information gathered is a powerful tool to work towards strengthening internal democracy.
In Bogota, the Asociación de Recicladores de Bogotá (ARB) has found the research to be helpful internally in the organization in terms of enabling them to engage on commitments and responsibilities for members. They will also use the IEMS to help support legal arguments for the integration of recyclers into the municipal system. 
These examples are just some of the ways our partner MBOs engaged in the process and have been using the research to further their internal and external agendas. WIEGO and the participating MBOs from the five cities met to devise more ways the research could be used locally by:
Creating advocacy tools to support the MBOs;

Holding policy dialogues in each city involving MBOs, city officers, and supporters to discuss findings and to engage the city in committing to public policies in support of informal workers;

Sharing research tools with supporting NGOs and other MBOs;

Supporting the strategic plans of MBOs.
A well-known waste picker from Asmare smiles when she sees herself represented in one of the focus group tools. Photo: S. Dias
As well-known Brazilian educator and author Paulo Freire says, "Knowledge emerges only through invention and re-invention, through the restless, impatient, continuing, hopeful inquiry human beings pursue in the world, with the world, and with each other." The IEMS was a unique experience of bridging theory and practice, of the production of knowledge in a participatory way. Waste picking provides a crucial source of income for households, and waste pickers are key actors in the provision of waste management services, though still not fully acknowledged by cities. But the powerful tools applied in the IEMS also revealed the agency of these workers: how by struggling for their rights, these waste pickers are contributing to transformative changes in their cities.
Read the full IEMS Waste Picker Sector Report.
Top photo: Juan Arredondo/Getty Images Reportage.
To read this article in Spanish, see here.
Related Posts
Informal Economy Topic

Occupational group

Region

Language
Wiego on Twitter