Hero Image
In Bangkok, Samlion Jintapo now runs a small grocery shop from her home. She used to supplement her income from the shop by selling cosmetics door-to-door, making an additional $140 US per month. But in 2013, Samlion had to give up the door-to-door sales work when rising gas prices dramatically increased her transport costs. She lives in the Nongchok district of Bangkok, where her entire community was relocated from central Bangkok years ago, and where poor public bus service means that home-based workers can't afford to obtain supplies or get their goods to market.
A home-based worker in Bangkok, Thailand. Photo: S. Trevino
Street vendors in Durban, South Africa. Photo: M. Graves
John Makwicana works as a market vendor in the Warwick Junction area of Durban, South Africa, where he has had a table since 1996. Through his sales, he earns approximately R300 (or $22 US) a week. In August 2013, John's goods were confiscated by a police officer who claimed he was not respecting the requirements of his trading permit. John lost 25 pairs of sandals worth R775 (about $57 US). Like informal traders all over the world, vendors in Warwick Junction are used to being harassed and having goods confiscated. Typically, the goods are returned with the payment of a fine, but since he'd done nothing wrong John decided not to pay the fine and instead took the city to court.
Waste pickers all over the world make their living by selling recyclables recovered from all the material the rest of us throw away on a daily basis. In Bogota, Nohra Padilla has led a long struggle on behalf of the Asociación Cooperativa de Recicladores de Bogotà (ARB) to have the work of informal recyclers recognized for the service they provide to the city. ARB mounted a legal challenge to the city's tendering process which actively excluded informal recyclers from participating in the city's waste management.
A waste picker sorting recyclables in Bogota, Colombia. Photo: L. Tuttle
Samlion, John, and Nohra provide important examples of how cities can become more inclusive. In 2008, the membership-based organizations (or MBOs) representing home-based workers, street vendors and waste pickers came together with technical support organizations in a multi-year project called "Inclusive Cities," with funding from the Bill & Melinda Gates Foundation. The aim of the project was to improve the situation of the urban working poor.
WIEGO and its Inclusive Cities partners built a vision of inclusive cities as cities that value all people and their needs and contributions equally. Inclusive cities ensure all residents – including the urban working poor – have a representative voice in governance, planning, and budgeting processes. Inclusive cities ensure the working poor have access to secure and dignified livelihoods, affordable housing, and basic services such as water/sanitation and electricity supply.
In most cities in the global South, the majority of those who work, work in the informal economy. Cities that recognize informal workers and involve them in planning help create cleaner, greener, more socially responsive cities. More vibrant cities.
Imagine the city with no street food – good-bye to the Bangkok we know and love! Do we want cities where women can't balance the burden of family care and making a living? Do we envision cities as places where informal recyclers are pushed deeper into poverty despite reducing greenhouse gases for all of us?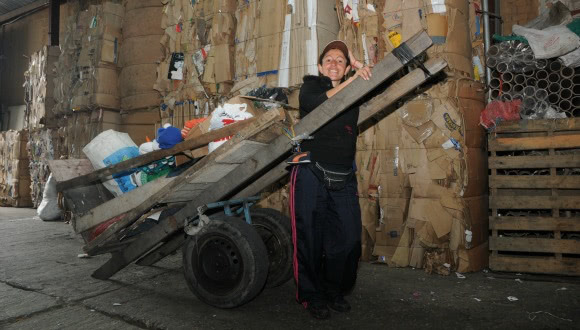 A waste picker in Bogota. Photo: J.D.M. Mulford
Here are some highlights of what we've learned working together in the Inclusive Cities project:
Organizing is a must. Without significant numbers, informal workers are just another small group of citizens knocking on the mayor's door. But since the majority of workers in most cities in the South are informal workers, their numbers can prove to be a powerful argument for change.
The power of evidence. Over the course of the project, WIEGO and its partners undertook multiple studies to provide the evidence required to convince policymakers of the size and scale of the urban informal economy, as well as the needs of those who work in it.
"Nothing For Us Without Us." This StreetNet International slogan represents much of what the Inclusive Cities project sought to achieve. Building the capacity of informal worker leaders was a key part of the Inclusive Cities project. From understanding the structures of the state at various levels (national, state, municipal) to having the ability to speak with confidence and enter direct negotiations with cities on the issues that affect their lives, informal workers invested in training and rose to the challenge of ensuring they could have a voice in municipal processes.
Dialogue opens minds. Time after time, where willing and engaged city officials were willing to meet with informal worker leaders and commit to solving problems in constructive ways, significant progress was made. On the Inclusive Cities project site, we've prepared some case studies demonstrating how powerful a tool this was for problem-solving at the city level.
When dialogue fails, the law can win.  In multiple instances, the Constitutional and High Courts recognized or re-affirmed the rights of informal workers to make a living in the modern city. With the support of WIEGO and other allies, informal workers consistently used the law to ensure their livelihoods would not be swept aside in the all-consuming drive towards the "world-class" city.
A home-based worker sews while her child watches in Bangkok. Photo: S. Trevino
Networking and alliance-building make us stronger. Informal workers know how networking matters -- not just because greater numbers give strength to an argument for action, but also because the struggle is a long one and networking among groups of informal workers is a reminder that no one is alone. As one group succeeds, others celebrate and learn from their success, and in return groups hold one another up during the hard times. As the old song goes: solidarity forever.
Together, Inclusive Cities partners opened new dialogues with cities, improved worker occupational health and safety, fought workplace evictions, improved worker status in the value chain, fought for inclusion in urban plans, and ultimately gained inclusion in city processes for urban informal workers.
In the end, why does it matter? Because…
Samlion Jintapo now has the option of two new bus routes into central Bangkok to revive her cosmetics business.
The High Court ruled in John Makwicana's favour, declaring the confiscation of his goods to be unlawful and setting a meaningful precedent.
Nohra Padilla and the ARB secured a Constitutional Court order that waste pickers must be integrated into Bogota's solid waste management system, eventually resulting in monthly fees paid to over 5,000 waste pickers.
Inclusive Cities are better for everyone.
A market in Durban. Photo: AeT
Top photo: R. Douglas
Related Posts
Informal Economy Topic

Language
Wiego on Twitter