Hero Image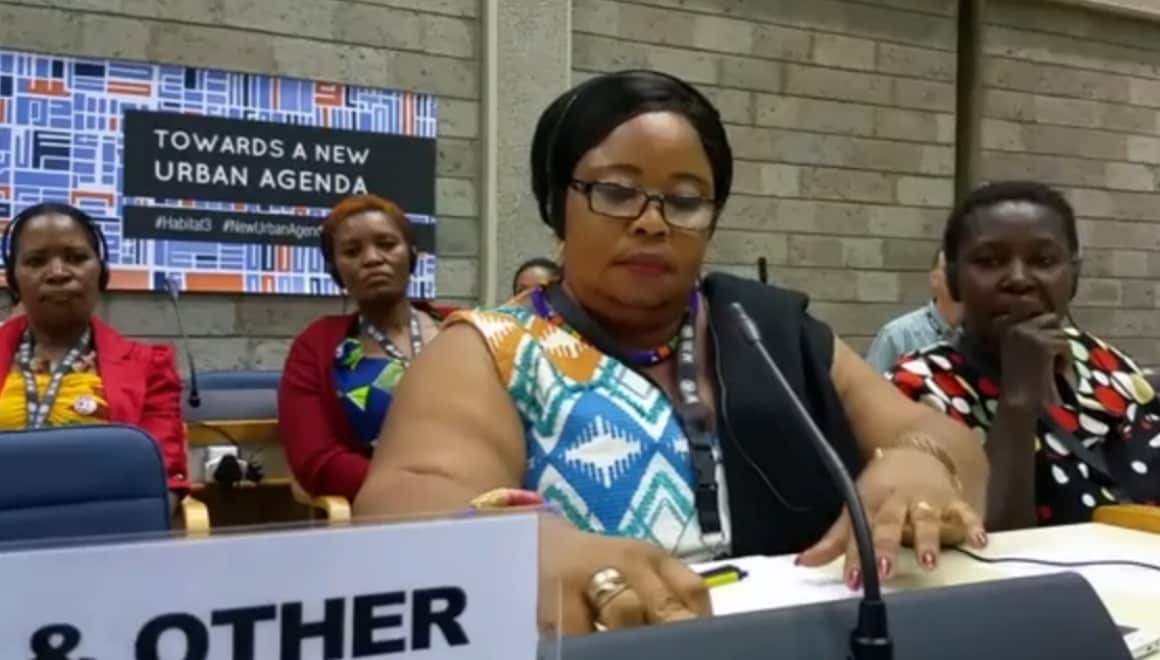 Last month in Nairobi, 700 participants gathered at the Second Session of the Preparatory Committee of the United Nations Conference on Housing and Sustainable Urban Development (PrepCom2)—an important event in a series that culminates in the Habitat III conference in Quito, Ecuador in October 2016. However, of the large delegation, only a small minority represented grassroots leaders. In an effort to elevate the voice and visibility of informal workers in the global urban agenda, WIEGO brought five worker leaders, all women, as part of its delegation. These women leveraged opportunities to advocate for inclusive urban development and informal livelihoods through participation in meetings with partners and governments, and presentations at side events and a plenary session.
The worker leaders belong to the following institutional members of the WIEGO network: the Kenya National Alliance of Street Vendors and Informal Traders (KENASVIT), the Kenya Federation for Alternative Trade (KEFAT), the Informal Hawkers and Vendors Association of Ghana (IHVAG) and the National Self-Employed Worker's Network of Peru, a member of the Peruvian Unitary Confederation of Workers (CUT). Throughout PrepCom2, the worker leaders' messages centered on key themes:
#1: "No city can be inclusive, equitable and sustainable without inputs from informal workers."
Juliana Brown Afari, WIEGO Board Member and representative of the informal economy workers of IHVAG, delivered this message in her PrepCom2 plenary address. Juliana, a trader in Accra's Makola Market, explained, "we pay yearly, quarterly, monthly and daily tolls," debunking the notion that informal workers don't contribute to local and national economic development.
Juliana also pinpointed the need for inclusion in the Habitat III process and local decision making: "It is about time that informal economy workers are recognized and given the opportunity to speak to the issues ourselves and the opportunities to improve our livelihoods," she said. Across the world's developing countries, the majority of workers are informal workers. "Informal economy workers must be included in the decision making and the planning of cities to add our voices to let you know what we want."
#2: When informal economy workers play an active role in planning, managing and policymaking for their workspaces, they help ensure more sustainable and appropriate policies.
"No one else knows the work like we [informal economy workers] do. Who knows how to do the job the way that we do?" These were the words of Gloria Solorzano Espinoza from Lima, Peru's National Self-Employed Workers' Network (translated from Spanish). At a side event on grassroots leaders' best practices in engaging with city management, Gloria shared her experience in organizing for an inclusive metropolitan urban planning ordinance in her city of Lima. When the city developed a contentious draft ordinance in 2012, more than 150 street vendors engaged in consultations with city government for a more inclusive policy. An estimated 75 percent of the city's economically active population is informally employed, Gloria said, and the network highlighted the role of street vendors and the need for the policy to recognize street vendors' contributions and work.
After an extensive consultative process, the new ordinance was passed in May 2014. It was the first time in 30 years that the city included vendors in the debate and modification of an ordinance. The ordinance established a tripartite committee, made up of municipal officials, street vendors and local residents, to resolve issues. The ordinance prioritized licenses for vendors who live in poverty and women heads of household; enables vendors to apply for two-year licenses; and offers capacity building and savings programs to equip vendors with new skills and resources to expand their business opportunities outside of street vending.
#3: Public spaces are market places and sites for economic productivity.
At a collaborative meeting with Future of Places and Shack/Slum Dwellers International (SDI), Juliana Brown Afari and Rosemary Odundo of KENASVIT shared street and market vending experiences. Collectively, these female worker leaders also argued that:
Increasing cities' public spaces should not mean the eviction of informal workers and informal settlements.
Informal livelihoods depend on access to public spaces. Informal street vendors and market traders contribute to the vibrancy of public spaces, local and national economies – therefore, proper allocation and planning for their activities in these places is needed.
Public spaces must be planned taking into account necessary facilities, such as health and medical clinics, parks, schools, recreation, markets, and community resource centers, in addition to required utilities and services, such as light, water, sanitation and security.
Moving Forward: Making New Connections and Engaging the New Urban Agenda
Through PrepCom2 the delegation of informal worker leaders connected with a larger network of grassroots leaders. Despite their different issues, they found commonality. "We were complaining about the same things," Rosemary said: participation and accountability in local decision-making, representation in the Habitat III process, more focus on livelihoods, health and education. "What touched me [was that] we women need to be part of the learning and decision-making…we ourselves should be involved."
The PrepCom2 experience marks a step to expanding worker leaders' access to and voice in the Habitat III process. There's still further room for growth, though, including enabling more local leaders' representation and providing translation services for non-English speakers in side events and meetings outside of plenary sessions. "The only inconvenience I [had] is that many of the materials are only made in English," said Gloria, who speaks Spanish. "At an event organized by the United Nations, they should have the facilities so that the documents are available in all the different languages necessary so that we can have the ability to communicate about it."
Still, their presence and participation helped make these informal workers – and those they represent globally – more visible. "The same platform on which my local government minister was speaking on, I also had the opportunity to go and speak on," Juliana said. "Through WIEGO, we have reached far."
Related Posts
Informal Economy Topic

Language
Wiego on Twitter