WIEGO seeks to increase the voice, visibility and validity of the working poor, especially women.
Increased Voice – WIEGO works to support and strengthen organizations of the working poor and to link organizations together. We also help them gain representation in the policy making and rule-setting bodies that affect their work and lives.
Increased Visibility – WIEGO undertakes and sponsors research and helps to develop and improve official statistics on informal employment and the informal economy. Our publication series and website offer a wealth of knowledge about the informal economy.  
Increased Validity – WIEGO promotes the mainstream recognition of informal workers as legitimate economic agents who contribute to the overall economy and are legitimate beneficiaries of economic and social policies. We also advance the incorporation of informal workers into policymaking and rule-setting processes.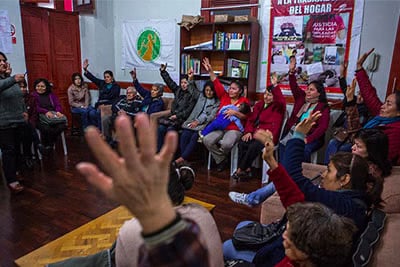 Membership-based organizations (MBOs) of informal workers are involved in the identification, prioritization and design of all of our activities. We disseminate the findings, data, and case studies generated – and related lessons learned – widely.
WIEGO does this work across five Core Programmes and five Focal Cities, as well as through many Special Initiatives.