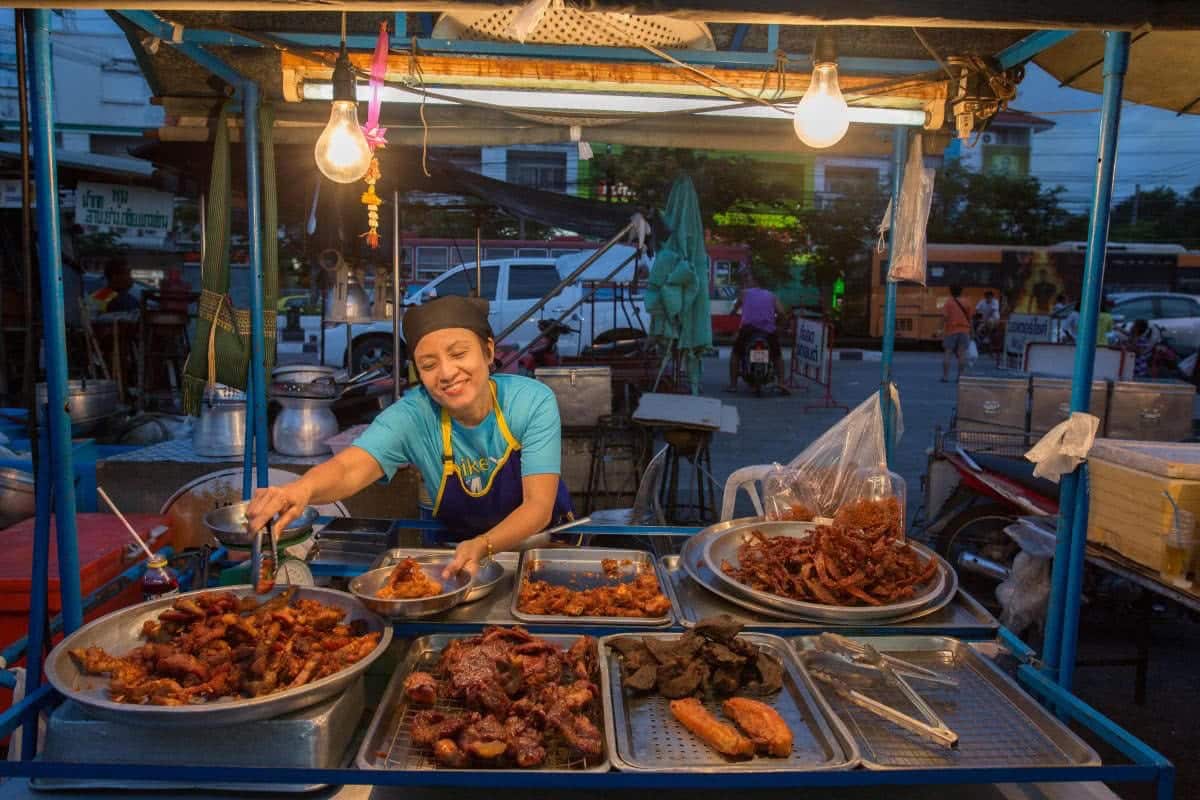 ---
Bangkok is a complex mega-city that offers positive examples of inclusive planning for and with informal workers.  WIEGO works with informal workers in this city, especially home-based workers and street vendors, to document advances--and ongoing threats to livelihoods.
Bangkok has long been renowned for its street food - now a ban on vending means street vendors face evictions. In Bangkok, WIEGO is supporting a campaign against the ban, organized by HomeNet Thailand and the Street Vendor Network. The campaign in support of street vendors involves:
A social media sign movement - key Thai influencers and customers of street vendors are posting photos of themselves with signs that express their support for street vendors, with the hashtag #SAVESTREETFOODBKK. To see some of these, search the account savestreetfoodbkk on Instagram, or search the hashtag on Instagram, Twitter or Facebook.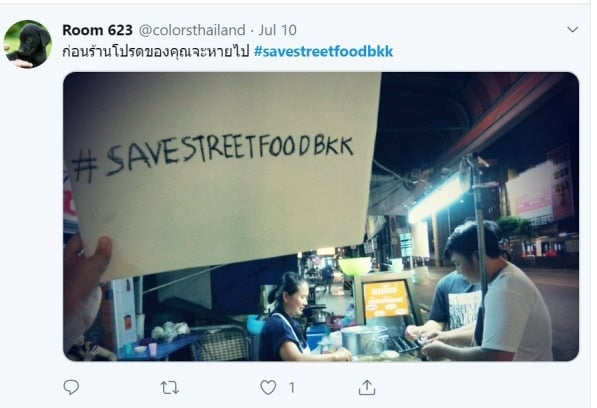 Blog (2018): Bangkok's renowned street vendors march against evictions – and rally widespread support
a video: "Wishing for Coexistence, Not Eviction: Life after the Street Vending Ban" shares the stories of three Bangkok street vendors. It was produced IN 2019 by HomeNet Thailand in collaboration with the Street Vendor Network, and working with local media house The Momentum.
WIEGO's Work in Bangkok
Bangkok is a diverse and complex mega-city that historically offers positive examples of inclusive planning for and with informal workers. WIEGO documented some of these advances, including the development of policies supportive of street vendors, a universal health coverage scheme and the Homeworkers Protection Act (2010). In 2013, informal workers were involved in formulating Bangkok's 20 Year Vision (2013-2032). Both this vision and its 5-year plan (2018-2023) highlight the needs of informal workers and seek to involve them in management processes.
However, governance has shifted in recent years, threatening many of these gains. For example, recent policies have led to a crackdown on street vending. Also, gaps in awareness and implementation of labour laws and social protection schemes add to workers' vulnerability across Thailand.
Home-based workers in Bangkok were part of WIEGO's groundbreaking Informal Economy Monitoring Study (IEMS)
From 2016-18, Bangkok was a WIEGO Focal City. The Focal Cities work in Bangkok builds on previous collaborations with HomeNet Thailand, a membership-based organization of informal workers with decades of advocacy experience. HomeNet Thailand and WIEGO are working to support organizations of informal workers in four occupational groups in Bangkok: home-based workers, street vendors, domestic workers and motorcycle taxi drivers.  
 Related news article: Sustainable Livelihoods Behind Street Vending in Thailand
Goals of the project
Capacity-building with informal worker leaders and their organizations in areas such as policy advocacy, communications and negotiation to support them in raising awareness of their contributions and advocating for their needs.
Supporting membership-based organizations (MBOs) in exchanging knowledge and strategies across sectors and regions.
Supporting MBOs in engaging in dialogue and negotiations with city and national public officials to promote mutual understanding and to allow workers to provide input on laws, regulations and social policy.
Street Vendor Exchange: NYC and Bangkok- In February 2018, representatives from street vendor organization in New York City exchanged experiences and strategies with vendors in Bangkok and gave them key recommendations as the Bangkok vendors advocate for policy reform. Read more.
Raising Visibility of Informal Workers' Demands through Policy Dialogues - The WIEGO Focal Cities Bangkok project aims to support the creation of purpose-driven, non-confrontational spaces where workers and government officials can reach mutual understanding about issues that affect workers' lives. In May 2017, an initial policy dialogue was organized by WIEGO, HomeNet Thailand, and the Bangkok Federation of Informal Workers to discuss findings from a participatory study with informal workers and resulting policy priorities. Worker representatives have also engaged in policy dialogues on community infrastructure and water transportation. Read more about the policy dialogue in May 2017.
Knowledge Sharing and Exchange - The Focal Cities Bangkok project also aimed to improve and disseminate research, statistics and good practice documentation with the objective of supporting MBOs in their advocacy efforts with local and national authorities. To this end, Focal Cities Bangkok and HomeNet Thailand have worked to strengthen ties with government agencies to improve official data on home-based workers and domestic workers in Thailand.
In February 2017, WIEGO led a seminar with representatives from the Statistical Office of Thailand, the United Nations Economic and Social Commission for Asia and the Pacific (ESCAP), the ILO and the Thailand Department of Labour and Welfare. Among other things, the meeting provided the opportunity to explore possible revisions to the Thailand Labour Force Survey, integrating questions that identify home-based worker and measure the informal sector in Thailand. Recommendations have since been adopted by the NSO, with ongoing technical support from WIEGO and the International Labor Organization. 
In addition, the project seeks to facilitate knowledge sharing through south-south learning exchanges, such as the visit in March 2017 of members of the Informal Workers' Association of Thailand to the Self-Employed Women's Association of India. 
Capacity Building- Capacity building and training with informal workers in Bangkok is focused on communications strategies and collective bargaining and negotiations. These activities aim to strengthen informal worker leaders and their organizations to ensure they can be effective representatives of their sectors and organizations.
Resources and Publications
Case study: "Chiang Rai City: Inclusive Urban Development for Informal Workers." This case study was selected as a finalist for Project Award by the SmartCity Expo World Congress.
"Informal Workers in Bangkok, Thailand: Scan of Four Occupational Sectors" launched October 2017. Also available in Thai. - The report explores key issues facing street vendors, motorcycle taxi drivers, home-based workers (both sub-contracted and self-employed), and domestic workers in Bangkok.
This WIEGO Blog offers insight from the reports authors on how Bangkok's informal workers are essential to formal and informal functioning of the city.
"What Bangkok's crackdown tells us about the multiple roles of street vendors everywhere." Blog in Citiscope, August 3, 2017. By Sarah Reed, Sally Roever and Narumol Nirathron
WIEGO Impact. "Winning Legal Rights for Thailand's Homeworkers."
---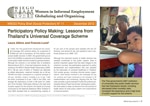 Alfers, Laura and Francie Lund. 2012
Participatory Policy Making: Lessons from Thailand's Universal Coverage Scheme
WIEGO Policy Brief (Social Protection) No. 11
---

Yasmeen, Gisèle and Narumol Nirathron. 2014
Vending in Public Space: The Case of Bangkok
WIEGO Policy Brief (Urban Policies) No. 16
NOTE: A 2017 update has been added to the summary page.
---
Informal Economy Monitoring Study: Thailand (Bangkok)

Executive Summary:
summary page
City Report:
summary page | pdf
Policy Recommendations:
summary page  | pdf
---