Domestic workers in Mexico achieved significant victories and gained profile worldwide in December 2018.
Supreme Court Makes Social Security Protections Obligatory 
The Supreme Court of Mexico took an unprecedented step towards extending social protection to domestic workers in the country when it declared the exclusion of domestic workers from the obligatory social security regime unconstitutional. The court mandated the establishment of a pilot program in 2019 to develop a new system designed around the particularities of domestic work.
Within 18 months of implementing the pilot program, the Mexican Social Security Institute (IMSS) must propose to the Congress of Union the necessary legal modifications for the formal implementation of a new special social security regime for domestic workers. It is expected that within a period of three years, the totality of domestic workers in the country will be enrolled in an effective, comprehensive and solid social security system.
C189 Headed to Senate for Ratification Vote 
On December 9, the new President of Mexico, Andrés Manuel López Obrador, declared that he would send the Decent Work for Domestic Workers Convention (C189) to the Senate for a ratification vote. 
New Film Highlights Struggle and Strength of Domestic Workers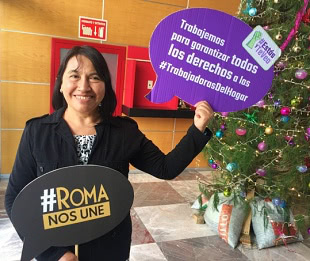 Against the backdrop of these policy victories, a new film was released by Academy Award winner Alfonso Cuarón called Roma. It tells the story of a domestic worker and the family she works for in Mexico City. The film has become extremely popular in Mexico and worldwide, and is being endorsed and publicized by the domestic worker movement as a significant step in raising awareness about the situation of their sector. The director, Alfonso Cuarón, invited Marcelina Bautista (of CACEH, SINACTRAHO and IDWF) to the national premiere of the film, where she gave a speech before the screening. 
See Marcelina at the premiere. 
WIEGO works in alliance with domestic workers' organizations and support organizations to advance the agenda of domestic workers in Mexico. We congratulate all those involved in this effort, including: Instituto de ILSB, Nostroxs, Conapred, CACEH,  SINACTRAHO and Hogar Justo Hogar.