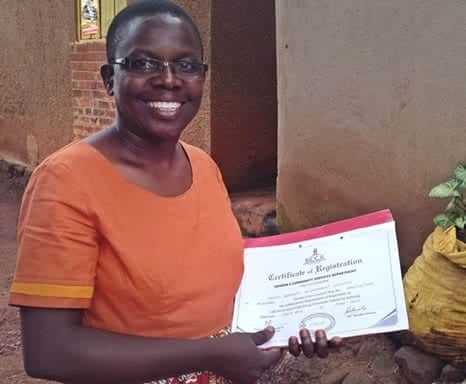 Like all groups involved in the WIEGO-led Leadership & Business Skills for Informal Women Workers in Fair Trade project, Ngalo was encouraged to officially register as a community-based organization. In July 2015, it did. That small act has already paid big dividends.
The women's fair trade handicraft group in Kampala, Uganda, has received a 5-million shilling interest-free loan from local government. The funding will allow Ngalo to dramatically expand by buying industrial sewing machines (they currently use manual machines) and renting workshop space.
"Now that we are fully registered, we are known by government—we are seen," says Agnes Mugabi, the chair of Ngalo who has served as a community facilitator and trainer in the project.
Agnes has been an elected member of the Local Council for 10 years. Her connections to the community and its political leadership are undoubtedly a factor in Ngalo's success—but so are the skills this project has strengthened. The trainings provided through WIEGO's Ugandan partner, UGAFAT, has bolstered confidence and propelled these women to expand their horizons. In fact, in 2016 Agnes will campaign to become chairperson of the Local Council chairperson.
She credits the project. "It really helped me. I can express myself fluently without fear. Formerly, I could not imagine a woman leading," Agnes says. "But it is really happening in our lives and in this group."
Ngalo—which means "fingers" in English—was one of the groups involved in WIEGO's first women's economic empowerment project from 2009 to 2012 as part of the National Association of Women Organizations in Uganda (NAWOU). Six years since the start of this relationship, Agnes reports that her changed attitude has impacted her daughters, because she realized that daughters should also be
treated equally to sons and should be educated. The youngest daughter will soon graduate from university.
Agnes has also embraced what she's learned about a woman's right to own property. "I am pleased to tell you that where we are seated is my own home on my own land," she says proudly. Now, she plans to buy a very big piece of land outside the city where she can grow food "to feed a nation"—and on which she can build a training centre. She has gained such inspiration from training through the project that she wants to keep passing on the knowledge.
Outside the small brick house, Agnes has planted a vegetable garden. This is part of the group's plan to diversify income. Most of the women have planted small urban gardens and grow onions, garlic, mushrooms, tomatoes, and other produce for sale. Some are now raising chickens.
But it is the items they design and make together—fabric bags are Ngalo's specialty—that generate the greatest income and the greatest optimism.
The group, now more than 20 women strong, has experienced growing success. After taking the quality production and diversification training, they developed a new range of styles. Orders and income shot up.  In December of 2015, they are working to fulfill a 400-piece order for a particularly popular bag.
"We need those new sewing machines," Agnes asserts. "Our business has spread wings."