These are the reflections of Marty Chen, WIEGO's International Coordinator, following an Exposure-Dialogue Programme held January 27-February 1, 2013 in Ahmedabad, India, as part of WIEGO's Law & Informality work. During the Exposure, Marty and Michael Piore of the Massachusetts Institute of Technology were guests of Devi-ben.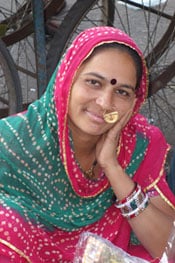 Ahmedabad city is divided in half by the Sabarmati River. To the east of the river is the old walled city and, north of that, the cantonment area where the British colonial and military officers once lived. There are 12 gateways leading into the old walled city. One of these, in the southwest corner of the old city, is Teen Darwaza (three gates) consisting of three arched gateways. Just outside the walled city, facing Teen Darwaza, is the Bhadra Fort built in 1411 by Sultan Ahmad Shah, the founder of Ahmedabad City. This area is home to one of the oldest markets in the walled city, with several thousand vendors selling mainly clothes, shoes and sandals, handbags, costume jewelry, and household goods. To the west of the river is the new city which, until recently, consisted largely of academic institutions, residential colonies, and storefronts built around a number of pre-existing villages. One of these villages is Gulbai Tekra settled some 100 years or more ago by a group of migrants from the neighboring state of Rajasthan who make murtis (statues) of the elephant god Ganesh during the 3-4 months leading up to the annual Ganesh festival, called Ganesh Chaturthi, and who take up street vending or day labor during the rest of the year.
Devi-ben, Michael Piore's and my Exposure host, used to live in Gulbai Tekra village and used to sell household goods in the market area between the Bhadra Fort and Teen Darwaza. Over the past decade, despite protests that Gulbai Tekra village is an historical site that should be preserved, the Ahmedabad Municipal Corporation has demolished homes in Gulbai Tekra to make way for roads through the area. During one of these demolitions, Devi-ben and her family plus her husband's extended clan were forced to relocate to the outskirts of new Ahmedabad. After living for some months in that relocation site, they were moved to a complex of four concrete tenement buildings built by the Corporation on a vacant barren plot in no-man's land between new Ahmedabad and the surrounding industrial belt.
As part of its efforts to "beautify" Ahmedabad City, the Corporation, together with the Archaeological Survey of India, has developed plans to renovate Bhadra Fort and to build a pedestrian esplanade from Teen Darwaza to the Sabarmati River. The plans were approved in 2011 and funded under the national Jawaharlal Nehru National Urban Renewal Mission. As part of this plan, the open area between the Bhadra Fort and Teen Darwaza where the Bhadra Market has operated for centuries would be converted into a heritage site called the Bhadra Fort Plaza: this area was originally landscaped as a park by Sultan Ahmad Shah when he built the fort in 1411. The vendors of Bhadra Market were evicted in January 2012 without any plans for where they would be relocated. SEWA negotiated with local government and police officials to allow the vendors to relocate around the cordoned-off plaza construction site.
Devi-ben noted that the Corporation started building the plaza in January 2012, but little progress has been made. When Michael and I climbed the ramparts of the Fort and looked down at the open plaza, there were no workers – indeed, no one – in sight: only stacks of stone tiles and piles of cement. The Bhadra Market vendors are not sure whether some or all of them will be allowed to vend at the heritage plaza, once it is completed.
"But we are part of the heritage - part of the culture – of the city", Devi-ben commented. Some of the vendors sell traditional cooked foods, others sell flowers and incense sticks to devotees who visit the Bhadra Kali temple at the base of the Fort: the whole market, over-crowded spilling into alleyways and onto a main thoroughfare, has the feel of a country fair – with a steady stream of customers of all ages and walks of life shopping or passing by throughout the day.

Devi-Ben's Work
Vending Space – Muslim vendors dominate Bhadra Market selling mainly clothes, shoes and sandals, handbags, and jewelry; the other vendors – like Devi-ben – are low-caste Hindus. Some vendors sell from laris (push carts) while others –like Devi-ben – sell from a cloth laid out on the ground.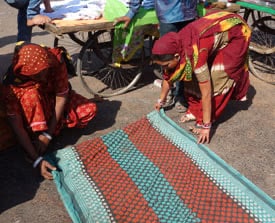 It was not clear to me how trading spaces were allocated – but Devi-ben has her fixed spot between a lari-vendor and a street-level vendor, both from her own caste community. Each morning, she fetches her goods (stored in boxes) from a storage space a few blocks away; spreads a cloth on the ground; unpacks the goods; displays her goods in an orderly and attractive way; and sits down to wait for customers.
Goods – Devi-ben has been selling photo frames (in sets of three) and wall clocks (decorated with images of the Hindu gods) for the last 10 years or so. She said that she figured out that, since no one else was selling them, there must be a niche market for these goods. She also sells small images of Hindu gods.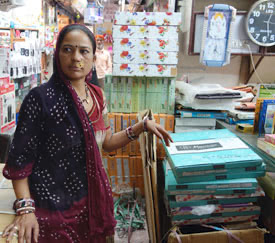 Wholesale Market - Devi-ben buys the goods she sells from a wholesale market called China Market a kilometer or more away, within the walled city. On the second day of our Exposure, we walked with Devi-ben and two of her friends, also vendors, to the wholesale market from the Bhadra market: around the corrugated iron fence cordoning off the area where the market once stood; through one of the three gateways of Teen Darwaza; and down a main road lined with vendors selling fruit, locks, flowers, baskets, sporting goods, clothing, and other items. We enter a two-three storied building with low ceilings and a maze of corridors lined with small stores selling a myriad of goods, many imported from China. We stopped at two wholesale shops from which Devi-ben and her friends regularly buy their goods. Devi-ben and her friends seem comfortable and at ease with the wholesalers, who appear to be only one link up the value chain – they speak of a sheikh (a wealthy merchant) who buys the goods from China. One of the wholesalers has a sister who works with SEWA. We return to Bhadra Market in motorcycle rickshaws – holding the goods Devi-ben and her friends had purchased on our laps. We are stopped by the police at a cross-road about half a mile from Bhadra Fort. It turns out that the road has been blocked due to a bus strike and we can't go any further on the motorcycle rickshaw. So we walk the rest of the way to the market down a busy road carrying the goods and trusting Devi-ben and her friends to negotiate the on-coming traffic for us.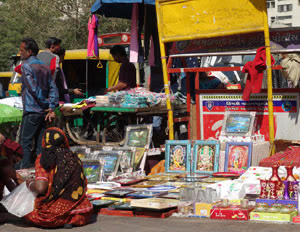 Customers – Devi-ben seems to get only a few customers each day: mainly women. As with the wholesale trader, she negotiates with customers in a casual and friendly way: not calling out to passersby or pressurizing potential customers to buy.Devi-ben is herself a customer in the market: buying water, tea, and food each day from other vendors. She told us that she recently gave up drinking tea in the market – as she was spending too much of her hard-earned money on multiple cups of tea per day. But, when we were in the market, she bought tea for us – which she carried in a plastic bag and poured into tiny plastic cups.

Earnings – It was hard to estimate Devi-ben's average turn-over each day, much less her net profit. Devi-ben reported that on the day before the Exposure began, a Sunday which she considers a "good day", she made sales worth 550 rupees (USD 11). She spends about 50 rupees (USD 1) per day on food, water, storage, and transport (each way costs 10 rupees on the bus or 20 rupees for a rickshaw). But I didn't find out the purchase price of the goods she sold that day. Devi-ben estimates that she earns a net profit of around 100 rupees (USD 2) per day during normal times and 300 rupees (USD 6) per day during the main festival seasons: Krishna Janmashtami, Ganesh Chaturthi, and Diwali. In 2012, SEWA negotiated with the Corporation to open part of the sealed-off heritage plaza construction site to create a special "Ladies Market" for the two months before Diwali, the Hindu festival of lights during which gifts are exchanged. According to Devi-ben, during two weeks of this period, she made sales totaling 15,000 rupees (USD 300), earning her an average net profit of 500 rupees (USD 10) per day. She had someone from the family help her manage the site during that period, as she had purchased a large stock of goods and worried about thieves.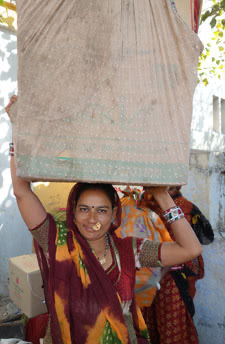 Storage Space – Each evening, Devi-ben repacks her goods into boxes which she ties together with an old sari. With one of these tied bundles on her head, and another other under one arm, Devi-ben carries the goods to a storage space a couple of blocks away. Both Devi-ben and her two friends store their goods under a tarpaulin against a wall within sight during the day, but not at night, of a man and his two sons who run a makeshift garment shop on a street corner and live around the corner. After laying the tarp over their goods, they place a couple of logs or bricks on the tarp, so that it won't blow off. They pay the man and his sons 10 rupees (US 20 cents) a night for storage. Fortunately, they have never had their goods stolen: it's hard to tell whether this is due to the paid guardians or to the police station next door.

Fellow Vendors – Michael and I had been told that there were several sources of tension in the Bhadra Market: due to the uncertainty and over-crowding after the recent eviction; a long-standing competition between the Muslim and Hindu vendors; and the ever-present threat of new street vendors crowding into an already over-crowded market. But I was impressed by a high level of trust within the market: when we went to the wholesale market, a round trip of more than an hour, Devi-ben and her friends left their goods on the ground, uncovered, to be guarded by other vendors from their Rajasthani community. When it was clear that Michael and I were uncomfortable after sitting for some time on very low stools near Devi-ben's vending spot, we were offered plastic chairs by Muslim vendors across the lane. When Devi-ben brought tea for Michael and me, she offered tea to the Muslim vendors.
I was also impressed by what appeared to be self-governance of the market: we met several vendors who are members of a market committee which, with the help of SEWA, is negotiating with the city. The members of the committee include both men and women (some of whom, but not all, are SEWA members). It was impossible to tell, from such a short visit, what is the truth behind the semblance of trust and self-governance or what has and will again trigger a break-down in that trust. I have since learned that there are self-appointed leaders in the Bhadra Market who collect fees from the vendors for intermediating on their behalf with the city officials and the police.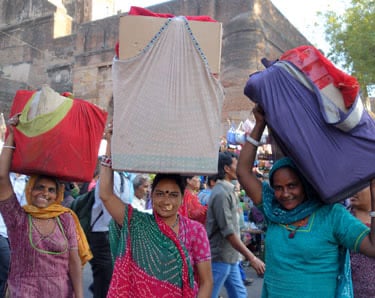 Devi-Ben's Home
Ganesh Puri (Ganesh Town) is the name given by the Ahmedabad Municipal Corporation to the complex of four tenement buildings where Devi-ben, her family, her husband's extended clan now live, and other members of their community now live. This is because many of the families are originally from Gulbai Tekra and make murtis of Ganesh for a living. As we pulled up to the complex at night, the headlights of the SEWA jeep illuminated a surreal scene: row upon row of Ganesh murtis, each 3-4 feet high made from plaster-of-Paris. In the harsh morning light, the scene was stark, less bizarre: many of the murtis were damaged – chipped ears or trunks and faded paint; goats were scampering up and over them; small shacks leaned against them; plastic bags and other waste were littered all around. I realized that these murtis were unsold goods, leftover from the 2012 Ganesh Chaturthi, and worried that the murti-makers would not be able to sell them at the 2013 Ganesh Chaturthi; not only because they are damaged but also because there is an effort to ban plastic-of-Paris murtis and replace them with clay murtis which more environmentally-friendly.
Devi-ben and her family live on the fourth floor of one of the tenement blocks, together with other families from her husband's extended clan. Everyone is related in some way. Each family unit has one L-shaped room – which serves as a living-cum-dining room by day and bed room by night - with a kitchenette at one end and a bathing room and toilet room to one side.
Devi-ben, Deva-bhai, his mother, and their two daughters sleep in their one-room home. They converted a storage room down the hall into a room for their son and his new bride.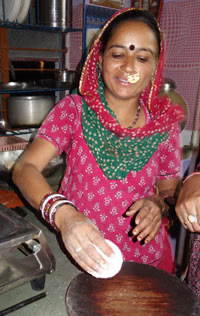 Devi-ben maintains a neat and clean home – everything has its place. Each morning, she folds their bedding and blankets in neat color-coordinated piles and places them on top of a large storage trunk that doubles as shelf. While folding them after our sleep-over, she noted: "I like my home to look attractive". She sweeps the floor and cleans the toilet several times a day. On a high shelf that runs along two walls, she displays their brass and aluminum plates, glasses, and cooking utensils: a common feature of homes in Gujarat and elsewhere in India. Important documents and photos are stored in plastic bags. The kitchen has a small stove and sink and very little counter or storage space: all of the staples are stored in metal containers. There is a TV mounted on one wall.
Shortly after we arrived at her home, after meeting several members of the immediate and extended family, Devi-ben took us to a small neighborhood grocery store, run by a woman, where she brought vegetables, spices, and herbs for our evening meal. A male relative, who is a cook for a catering company, cooked the vegetables. Devi-ben made dough and rolled small balls of dough into round flat rotis (unleavened bread) which she roasted on a dry frying pan: I tried to help – but my roti turned out oval, rather than round. Amused by my efforts, Devi-ben roasted my roti and added it to her pile of perfectly-round rotis.
Devi-Ben's Family
Devi-ben and her husband, Deva-bhai, have one son and two daughters. Their son, Tejas, is the eldest of the three children and was married on January 23, the week before we visited, to a young woman whose family lives in the opposite tenement building. At one point during our visit, we waved across the courtyard to Tejas's new mother-in-law. Tejas is 19: his wife, Hina, is 21.
Tejas studied to class 10 but failed the national class 10 exams three years in a row: he explained that he could not pass the English, Hindi, and math exams but noted with pride, "I got 99 per cent in painting". He showed us the pleasing murals of a wedding procession and a bride that he had painting on the stairwell of their building. After he failed the class 10 exam for the third time, he enrolled in an 18-month computer graphics course: the tuition for the course was 6000 rupees per year. The school, about 3-4 kilometers from where they live, promises to help place him in a job after he graduates in one month. His dream is to earn enough to pay for his sisters' weddings and to give money each month to his mother. Hina, his wife, studied to class 4 but joked with us saying "I passed my SSC (Secondary School Certificate)".
Devi-ben's two daughters, Pani and Puja, dropped out of school after Class 2. They have no plans other than to get married once they are in their late teens. Devi-ben has already purchased jewelry for the marriage of her older daughter, Pani. We did not meet Pani during our stay as she had gone with her paternal grandmother to a family wedding.
Deva-bhai used to work alongside Devi-ben in the Bhadra Market. But, after being beaten by the police, decided to become a mobile hawker. He sells traditional house ornaments: embroidered tapestries (called toranas) which are hung over entryways and colorful plastic mobiles. From his earnings, he contributes 100 rupees (USD 2) each day to the household budget and also helps cover medical costs and social expenditures. Devi-ben knows her husband earns more than he contributes but does not know how much more. Deva-bhai did not join our discussions at their home. He made only two or three brief appearances and hardly acknowledged our presence. Someone told us he was shy. I wasn't sure shyness explained his reticence.
Weddings in India are big, extravagant, costly events, involving several days of festivities, rituals, and feasts. The Rajasthani community that Devi-ben belongs to practices bride price, rather than dowry: making the weddings of sons more expensive than the weddings of daughters. Devi-ben and her husband spent 150,000 rupees (USD 3,000) on Tejas's wedding: taking a loan of 60,000 rupees (USD 1,200) @ 5 per cent interest (6000 rupees or USD 120) per month. She anticipates that they will spend 70,000 rupees (USD 1,400) on their daughter Pani's wedding. Friends and family will give gifts in cash and kind (blankets, utensils, clothing), as reciprocal gift-giving is the norm. Devi-ben tries to save 10 rupees (US 20 cents) per day – but wishes she had a secure place nearby to save as the SEWA Bank, where she has a savings account, is far away.
The night we stayed with Devi-ben and her family there was a wedding celebration in one of the other tenement blocks. Devi-ben took us to the rooftop of their tenement block, which served as a storage area for beds and more Ganesh murtis, to watch the festivities. The family of the groom had hired a truck with a loud speaker playing Bollywood songs and an elaborate horse-drawn carriage – rather like the one Cinderella rode to the ball. Scores of people, mainly men, were dancing to the Bollywood songs. Michael began dancing with Tejas and Devi-ben. I joined as well – but only briefly. Much to everyone's delight, Michael kept dancing.
Later that night, just before we went to sleep, the groom left for the bride's home in the fancy horse-drawn carriage now all lit up – flanked by family members escorted by a band and led by two men people electric candelabra-like lamps: the music and dancing reached a crescendo as the carriage and the procession left the complex. The illuminated procession of the groom and his family (called the bharat), passing by the rows of Ganesh murtis, created another surreal night-time scene. I went to sleep thinking about the costs of weddings and the huge debt families incur. In Devi-ben's case, according to my rough estimates, the cost of her son's wedding (150,000 rupees or USD 3,000) equals nearly two year's worth of the combined net earnings of Devi-ben and her husband, assuming they work seven days a week; and the interest they have to pay each month on the loan they took to help pay for the wedding equals their combined earnings during a normal month, again assuming they work 30 days a month. And the estimated cost of their daughter's wedding will come to 1.5 year's worth of their combined net earnings. I have no idea whether, when, and how Devi-ben and her family – and countless others like them – expect to pay off these huge debts. But what is clear is that some – like Devi-ben - learn to live with huge debt burdens.
Devi-Ben's Friends
Devi-ben has two close women friends who still live in Gulbai Tekra and vend at the Bhadra Market. Ratan-ben, who has never married, lives with her mother. She explained that she doesn't want to marry because she has observed the hardships of married women and she wants to model her life on that of Manali-ben, a senior SEWA Union leader who fights for their rights. Jetun-ben, who is divorced, lives with her two daughters, her sister who is lame, and her father who was paralyzed by a stroke shortly after his wife died. Jetun-ben is now the single breadwinner for this family of five. Her two daughters do all of the housework. Before her mother died and her father was paralyzed, Jetun-ben pooled her earnings with her parents' and let them worry about the household budget. But now that she is responsible for making ends meet, she keeps account of all she earns and spends. Jetun-ben prides herself on being practical and being literate and numerate. She studied to class 4 but was pulled out of school, at age 10 or 11, to get married. She regrets that her daughters did not take any interest in schooling: they studied until class 4 and 7, respectively, but can't read or write. Jetun-ben blames this on the poor quality of the government schools, which she calls the "Corporation schools". Jetun-ben's brother studied to class 12, but failed the national class 12 exams. He got a wage job earning 3000 rupees (USD 60) per month but gave it up to become a hawker: he now earns around 4-5000 rupees (USD 80-100) per month.
The three friends have good fun together and seem to be un-separable. Both Ratan-ben and Jetun-ben accompanied us throughout the Exposure, including sleeping overnight at Devi-ben's home. Devi-ben's family moved out for the night to sleep in the homes of relatives down the hall. Seven of us slept in Devi-ben's one-room home. Devi-ben and her two friends, two SEWA organizers (Leena and Manjula), and I slept on a plastic rug on the floor. Devi-ben laid out a mattress for Michael, whom she called cha-cha (uncle).
Devi-Ben
The impact of being evicted from one's home or place of work is devastating. The combined impact of being evicted from one's home and one's place of work, as in Devi-ben's case, must be catastrophic. But there was little, if anything, about Devi-ben – her persona, the way she conducts herself, her interactions in the market and at home – that suggests the stress she and her family have endured.
Devi-ben is a beauty. She slept in her clothes the night we spent in her home. In the morning, she jumped out of bed looking as beautiful and fresh as if she had washed and groomed herself. Her first task was to collect water from the common tap outside the building. I joined her: she carried two aluminum pots on her head with remarkable ease and elegance: I carried a plastic bucket in my hand. Devi-ben is conscious of her beauty and coquettish – flirting with her eyes, posing for photos. When she brought out a couple of photo albums at her home, Michael and I expected these would be photos of Tejas and Hina's wedding. But they were of Devi-ben: some taken at festivals and earlier weddings; others, with her in fancy dress against fake flashy backdrops, taken at photo studios.
Devi-ben is practical. She does all her work and household chores quickly and efficiently; she does not stop to fuss or complain. She knows how to bargain and negotiate with suppliers and customers alike. But Devi-ben is also a free spirit. Jetun-ben, who now keeps strict accounts of what she earns and spends, noted that Devi-ben doesn't keep accounts: Devi-ben admits she spends what she earns, after putting aside 10 rupees (US 20 cents) a day as savings. Devi-ben seems equally friendly and outgoing with everyone she meets, whether male relatives, wholesale traders, Muslim vendors, or international visitors. She and her son Tejas love to dance. She did not hesitate to dance with Michael. But she drops her ghunghat (veil) whenever male relatives enter her home: the only sign that she too is bound by custom. Her new daughter-in-law, Hina, remains completely veiled in her presence. When I asked Devi-ben about this, she said "it is our riwaj (custom)". When I said I would like to see Hina's face, Hina walked behind Devi-ben, lifted her veil, and winked at me.
…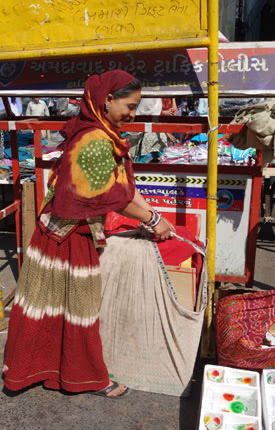 The beauty and spirit of Devi-ben, in the face of great disadvantage and discrimination, is my most vivid and lingering impression from the Exposure. My other main impression is the meaning of SEWA in her life. During the Exposure Dialogue session on SEWA's legal strategies, when SEWA members were asked what law means to them, Devi-ben asserted: "SEWA is the law". It was SEWA who intervened on behalf of Devi-ben and her fellow vendors when they were evicted from the historic Bhadra Market and negotiated that they should be allowed to vend near and around the original market area which was cordoned off to build a heritage plaza. It was SEWA who negotiated that part of the cordoned off area should be opened up for the two months before 2012 Diwali: to let women vendors sell Diwali goods in what SEWA called a "Ladies Market". Devi-ben told us that the pre-Diwali sales at the Ladies Market were so good that she and her friends celebrated Diwali in a very special way last year.
One of my big-picture concerns is about the future of the countless working poor families in India. A case can – and has been made – that the goal should be to move individuals and families out of low-wage activities such as street vending. But what is the alternative? Employment growth lags behind economic growth in India. Both wage employment and wages have stagnated. Self-employment is on the rise. Millions of young people will be entering the labor market over the next decade. Also, many cities in India are de-industrializing: owners of capital are closing down their old labour-intensive urban-based industries (such as textiles) and investing in new capital-intensive industries (such as chemicals and pharmaceuticals) in the urban periphery or rural areas.
As a well-known Ahmedabad industrialist once told me: "We used to hire hundreds of workers in our textile mill in Ahmedabad City, we now hire scores of workers in our pharmaceutical plant on the road to Baroda (a near-by city). Our competitor down the road, who has partnered with a German firm, hires fewer workers than we do". Certainly for Devi-ben's generation and especially for those with little or no education, there are few new employment opportunities. I hope Tejas will get his dream job in graphic design – but I worry that he won't. There are simply too many competitors for the few jobs that open up and local training
Why does an ancient fort built in 1411 constitute heritage, and not a traditional artisan village or a historic market area?
This brings me to my second big-picture concern: namely, the impact of urban renewal – of efforts to beautify the city – on the traditional livelihoods of thousands of city residents who, for generations, have made traditional religious images or sold goods in historic market areas of the city. The related question is what constitutes heritage? Why does an ancient fort built in 1411 constitute heritage, and not a traditional artisan village or a historic market area? Why does the open area in front of the Bhadra Fort need to be restored to resemble an ancient park from the 15th century rather than the historic market area which it has served as for centuries? Why do ancient buildings constitute heritage, and not traditional ways of life and traditional livelihoods? Why do buildings and spaces mean more to architects and planners than people, their homes, and their livelihoods?institutions, like the one he went to, are often of very poor quality. The goal should be to both expand new employment opportunities and, at the same time, support (not destroy) existing livelihoods.