Domestic work is a significant source of employment worldwide, accounting for 4 per cent of the labour force, with an estimated 67.1 million people employed in this occupation across 176 countries. Forty-one per cent of all domestic workers in the world are in the Asia Pacific region. Domestic work is characterized by several factors that leave workers in a highly vulnerable position. These include low earnings; exclusions from labour and social protections, for example WIEGO studies have found many barriers to health care access; and challenges to organization, with live-in workers particularly isolated from other workers.
WIEGO's joint project with the International Domestic Workers Federation (IDWF) ultimately aims to empower grassroots organizations of domestic workers to integrate social protection concerns into their organizing and bargaining strategies in the South Asia region. Among the outputs of the project, which is funded by the Open Society Foundation's Women's Rights Programme, is a series of policy briefs.
WIEGO Policy Brief No. 19: The Costs of Insecurity: Domestic Workers' Access to Social Protection and Services in Dhaka, Bangladesh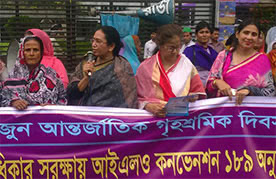 Domestic workers in Bangladesh carry the heavy cost of inadequate investment in the provision of social protection and services and survey findings show that the majority of domestic workers earn a wage that is insufficient to cover their basic needs. This policy brief makes recommendations for policy makers and scheme administrators, trade unions, and grassroots organizations and coalitions to extend social protection to this vulnerable group of workers.
WIEGO Policy Brief No. 20: Domestic Workers, Risk and Social Protection in Nepal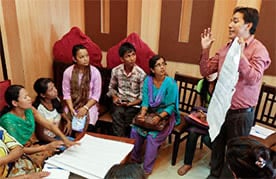 Most domestic workers in Nepal are employed in live-out arrangements with multiple employers while others, many of them adolescent girls, live in the home of a single employer. Among recommendations made in this policy brief are that domestic workers are registered with local authorities, which will allow access to relief in crises such as COVID-19; that domestic workers are drawn into the formal social security system; and that labour monitoring be done to tackle child labour and violence in the work place.
WIEGO Policy Brief No. 21: Domestic Workers, Risk & Social Protection in Delhi National Capital Region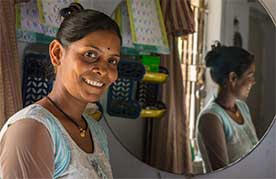 This brief looks at the situation of the estimated 500,000 domestic workers in Delhi, India's capital, and makes recommendations to the state government, including that a minimum wage notification be set for domestic workers and a task force be established to consider their social protection needs. With COVID-19, large numbers of domestic workers in Delhi are said to have lost their jobs and about 80 per cent face severe to moderate economic crises. The sector was largely excluded from emergency grants and food rations.
Photo Credit: NDWWU. The National Domestic Women Workers' Union in Bangladesh observed International Domestic Workers' Day in 2017 with a rally that focused on ratifying C189.