Miss Priyamas Sooksombat lives in Noan Sa-aad community in KhonKaen province in Thailand. She is a basket and handbags/bag weaver, whose products are mainly for sale. She reflects on the impact of COVID-19 outbreak that her life now is full of worries and fear.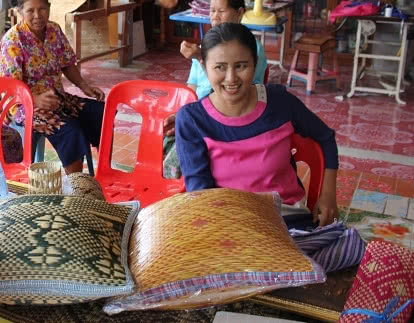 She is afraid to go out. When she has to go out, she would be so worried that she herself might be exposed to the virus and be the one spreading the virus to her family members and community.
She was alarmed to see people hoarding food supplies and she also had to be wary of crooks coming into the community.
"I thought living in provincial areas would not make me face food hoarding as Bangkokians did," she says. "But two days before the Emergency Decree was issued, I went out to buy food at my regular grocer's and saw lots of people buying up all instant foods in the shop.The shop assistant said people had come to buy the food since early morning, thus they were quickly gone."
Her income has descreased by 60-70% since the outbreak of Coronavirus disease. Her regular customers, who often sold their goods at shops in tourist destinations, weekend markets and walking streets, cancelled the orders they had previously placed because there were no buyers and the markets were terribly quiet without any tourists and visitors. She had to stop making baskets and handbags/bags. In March, she was employed to produce cotton face masks to be sold to the people in her sub-district and nearby communities, but the employment was expected to end at the end of April.
"At the moment, I'm employed to produce 10,000 pieces of cotton face masks to be sold at 10 baht per piece to the people in our sub-district and nearby communities. When all the costs are deducted, my wage will be only 1.50 baht per piece. At a time like this, I'll have to take any doable jobs since I have to pay daily expenses."
If the spread of the Coronavirus disease does not show any hopeful signs, she'll be completely unemployed.
Concerning welfare and health services, she said she lives in a provincial community far away from city hospital. Each time she has to travel to and from the hospital, it takes her a lot of time and at least 800 baht for transportation expense. Though there is a small hospital located near the community, it provides only outpatient services of examination and prescription of medicines to be taken at home. Medical equipment there is still inadequate. Earlier, 60 people came from Bangkok and overseas to live in the sub-district and four of them came to live in the community. Though they self-quarantined for 14 days, she has to take special care of herself and family members during this particular period.
As for social welfare services, she already applied for social security provision under Section 40. But she is worried that she might not be able to register through the www.เราจะไม่ทิ้งกัน.com website and be one of the workers eligible for the government's aid scheme for informal workers. She believes that apart from home-based workers, the number and diversity of jobs done by informal workers are far greater than those determined by the state so worried that when it's time for the workers to register, the website could crash and bar the workers from getting access to the state's help.
Afterword: Her concerns about the government emergency grant were founded. The Thai government launched a stimulus package focused on informal workers that would pay 5,000 baht (US$ 152) for three months, starting in April. It was intended to cover 3 million workers. However, 22 million have registered for the informal worker benefit. The government said they would include any informal worker who needs it, and to ensure that the benefit is going to the right people, they instituted a system of coding and verification. HomeNet Thailand reports that all of their 7,000 members have joined up -- about 50 percent had to ask for help from family members or the organization to sign up on the website, but they all managed to do it.