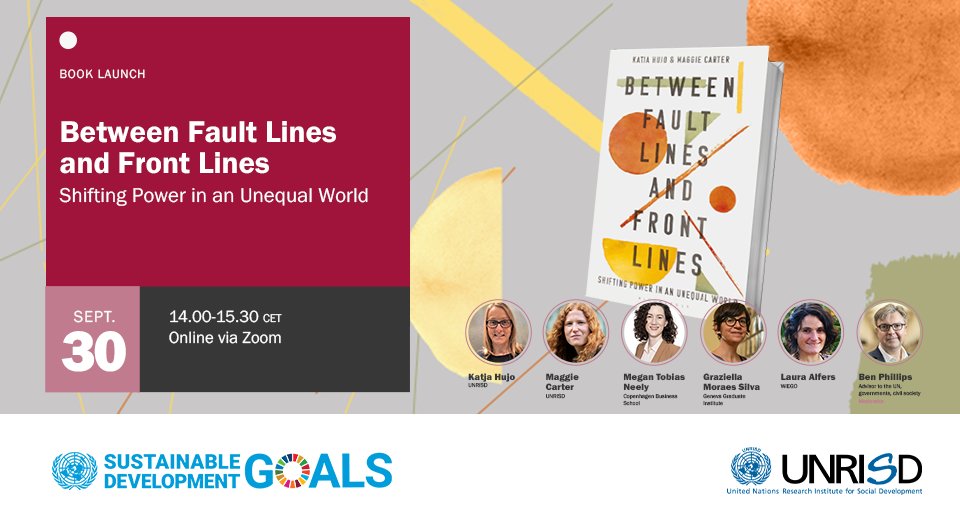 30 September 2022 - 30 September 2022
Online
Date: Friday, 30 September, 2022
Time: 14:00 – 15:30 Central European Time (CET)
Language: English
Inequality is one of today's greatest challenges, obstructing poverty reduction and sustainable development. As the power of elites grows and societal gaps widen, institutions representing the public good and universal values are increasingly disempowered or co-opted, and visions of social justice and equity side-lined.
This newly released volume (Bloomsbury, June 2022) explores the roles of elites and institutions of power in the deepening of social and economic cleavages across the globe, by asking how inequalities have reshaped structures from the local to the transnational level, and what consequences they have wrought.
Join UNRISD for a global, virtual launch with authors and special guests.
Speakers
Katja Hujo
Senior Research Coordinator, UNRISD
Maggie Carter
Senior Research Analyst, UNRISD
Megan Tobias Neely
Assistant Professor, Department of Organization, Copenhagen Business School
Graziella Moraes Silva
Associate Professor of Sociology and Co-Director of the Albert Hirschman Centre for Democracy, Geneva Graduate Institute
Laura Alfers
Director, Social Protection Programme, WIEGO; Research Associate, Department of Sociology, Rhodes University
Moderator
Ben Phillips, Author of How to Fight Inequality (2020)