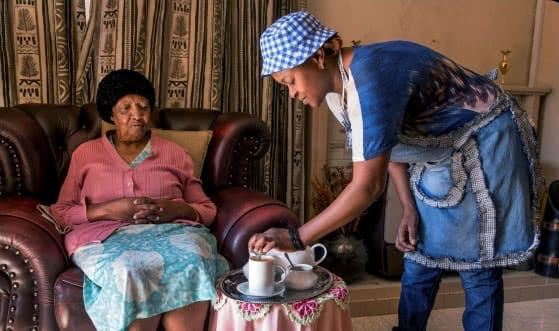 Because they work requires them to be in others' home—often multiple homes—and to come in close contact with individuals and items that may be carrying the virus, domestic workers are frontline workers in this pandemic, and at risk.
Underlining that risk, a 63-year-old domestic worker in Rio de Janeiro became infected with coronavirus through a client who had recently returned from Italy. The domestic worker died on March 17.
Since the global pandemic began, domestic workers in all regions of the world have reported multiple issues. Live-in workers have been told to work more to keep their employers' home extra clean; some have been told they cannot leave the home at all.
Many who come into work have also been told to increase their work—with no additional pay—or have had their hours cancelled with no compensation.
The International Domestic Workers Federation has called for the enforcement of paid sick leave and adequate compensation in the event of dismissal in their Statement on Protecting Domestic Workers Rights and Fighting the Coronavirus Pandemic [ en español | en français ]
Most domestic workers cannot stop working without losing essential income they and their families need to survive.
Interventions for Domestic Workers
In Mexico, where the national response to COVID-19 has been slower than elsewhere, this CBC news article looks at the how the health and economic impacts could devastate informal workers. WIEGO's Sofia Trevino is quoted: "I'm in constant conversation with the different informal workers groups. Domestic workers are 2.2 million women in Mexico. Most of them are being dismissed without compensation."
---
In Pune, India, where coronavirus cases have been reported, citizens began training domestic workers and others at risk on how to reduce the risk of contracting and/or spreading the disease.
---
Netherlands: The Dutch union FNV is helping its members who are migrant domestic workers advocate with their employers for continued work or continued payment where the household does not with the domestic worker to continue to attend to their duties. When domestic workers—and particularly migrants—lose their daily earnings, the rapidly experience financial hardship.
A group has proposed that an emergency fund be established to which clients and third parties can transfer support funds. Funds can then be divided and issued to those who have lost their earnings.
They have also issued instructions on health and safety in the workplace, particularly maintaining social distance and heightened hygiene procedures. 
A template letter has been provided to FNV members for use with their clients. It asks that the domestic worker be allowed to continue to provide services. If the client suspends services, the letter asks that they take seriously their obligations as a contractor and continue to pay at least 70% of the regular wages. If the domestic worker wants, they can direct clients to the FNV union director, who will inform the client of the domestic workers' rights in accordance with the European Social Charter on basic labour rights.  
---
In Brazil, the National Federation of Domestic Workers (Fenatrad) and Themis (Gender, Justice and Human Rights) have started a campaign for domestic workers (in Portuguese) to be suspended with pay while the risk of infection continues, or to be given the tools to protect against risk, including masks and hand-sanitizing gel.
---
In the USA, the National Domestic Workers Alliance (NDWA) launched a Coronavirus Care Fund: an emergency relief fund for domestic workers facing hardship as a result of the coronavirus pandemic. The goal of the fund is to raise $4 million to support 10,000 workers.
Ai-jen Poo, founder of the National Domestic Workers Alliance, wrote a piece for the New York Times. "Protect Caregivers From Coronavirus: Workers who have been in the shadows could be essential to stemming the spread of the virus"
NDWA has also put together resources for its membership to help them navigate the risks.
Article on how COVID-19 affects US Domestic Workers
---
In Peru, domestic workers are asking employers to provide them with written contracts, so that during the current imposed curfew they can show the contract to proceed to their work.