There are no economic indicators so important or revealing as the words of workers. Today, the voices of informal economy workers, who constitute 60% of the world's workforce, are helping us unpack the hardship, injustice, and possibility for transformation within our economic system, laid bare by COVID-19.
---
WIEGO and our partners are listening long and hard to informal economy workers through our study: Covid-19 Crisis and the Informal Economy.
In April 2020, WIEGO and our institutional members and other partners -- organizations representing informal economy workers in a variety of occupations—began planning further research to sharpen our understanding of the crisis. With support from the International Development Research Center, we are asking: How are homeworkers managing unprecedented disruptions in global supply chains? How are workers in public spaces and private homes protecting themselves from COVID-19? What kinds of relief measures are actually reaching them, if any, and what support do workers need to really restart and secure their livelihoods? These questions are as relevant for informal workers in New York City in the Global North as in Delhi, Accra, or Lima in the South.
COVID-19 and the Informal Economy aims to fill these gaps. Conducted in two rounds, it will capture changes across the different stages of the crisis during the second and third quarters of 2020, and how workers are adapting by the first quarter of 2021. The study creates a platform for the experience and voices of informal workers to rise to the top of the policy agenda, for those who create policy to see, hear, and feel what is going wrong at the base of the economic pyramid— and what we could start doing right.
The disease has caused us a lot of difficulties because in Mbeubeuss [Dumpsite] there is plastic but we can no longer export it so we are having difficulty selling the product, and the intermediaries are taking advantage to lower the prices. So we are obliged to sell at this price because we need it to support our family. -Waste Picker, Dakar
My body is ok, but my emotional wellbeing is vulnerable. I got COVID and had to think of my elderly parents. I'm still recovering mentally. -Canner, New York, New York
Cities: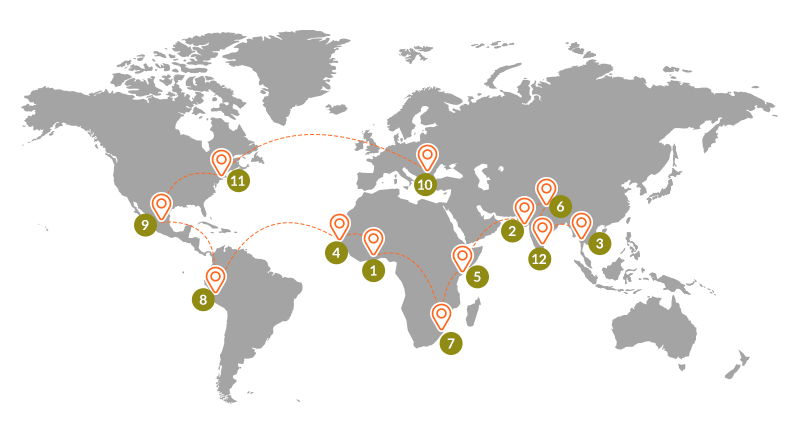 1- Accra (Ghana)
2- Ahmedabad (India)
3- Bangkok (Thailand)
4- Dakar (Senegal)
5- Dar es Salaam (Tanzania)
6- Delhi (India)
7- Durban (South Africa)
8- Lima (Peru)
9- Mexico City (Mexico)
10- Pleven (Bulgaria)
11- New York City (USA)
12- Tiruppur (India)
---
Partner and collaborating organizations:
Asiye eTafaleni; Conservation, Hotels, Domestic, Social Services and Consultancy Workers Union (CHODAWU); HomeNet Thailand; Federation of Informal Workers Thailand; the Bulgarian Trade Union of Self-Employed and Informal Workers (UNITY); Street Vendor Project; Sure We Can; Social Awareness and Voluntary Education (SAVE); Self Employed Women's Association (SEWA) ; Sindicato Nacional de Trabajadores y Trabajadoras del Hogar (SINACTRAHO); - Trabajadores Voluntarios y Desempleados de la Ciudad de México (TVDCM); Unión de Aseadores de Calzado de la Ciudad de México (UACCM);  Greater Accra Markets Association (GAMA): Kpone Landfill Waste Pickers Association; Informal Hawkers and Vendors of Ghana (IHVAG); Kayayei Youth Association; Jan Pahal; Delhi Roundtable of Waste Pickers (DRT); SEWA Delhi; Bokk Diom; SINTTRAHOL - Sindicato de Trabajadores y Trabajadoras del Hogar de Lima; SINTRAHOGARP - Sindicato de Trabajadoras del Hogar del Perú; IPROFOTH - Instituto de Promoción y Formación de Trabajadoras del Hogar; FENVENDRELP - Federación Nacional de Vendedores de Diarios, Revistas y Loterías del Perú; RENATTA - Red Nacional de Trabajadoras y Trabajadores Autoempleados; CETRAFOR - Central Única de Autoempleados de La Victoria, Rumbo a la Formalización; Asociación La Parada; CONFIAR - Confederación de Instituciones de Ambulantes y Afines de la Región Lima y Callao; FENAREP - Federación Nacional de Recicladores del Perú; Frente Nacional de Recicladores Ambientalistas del Perú.
---