Hero Image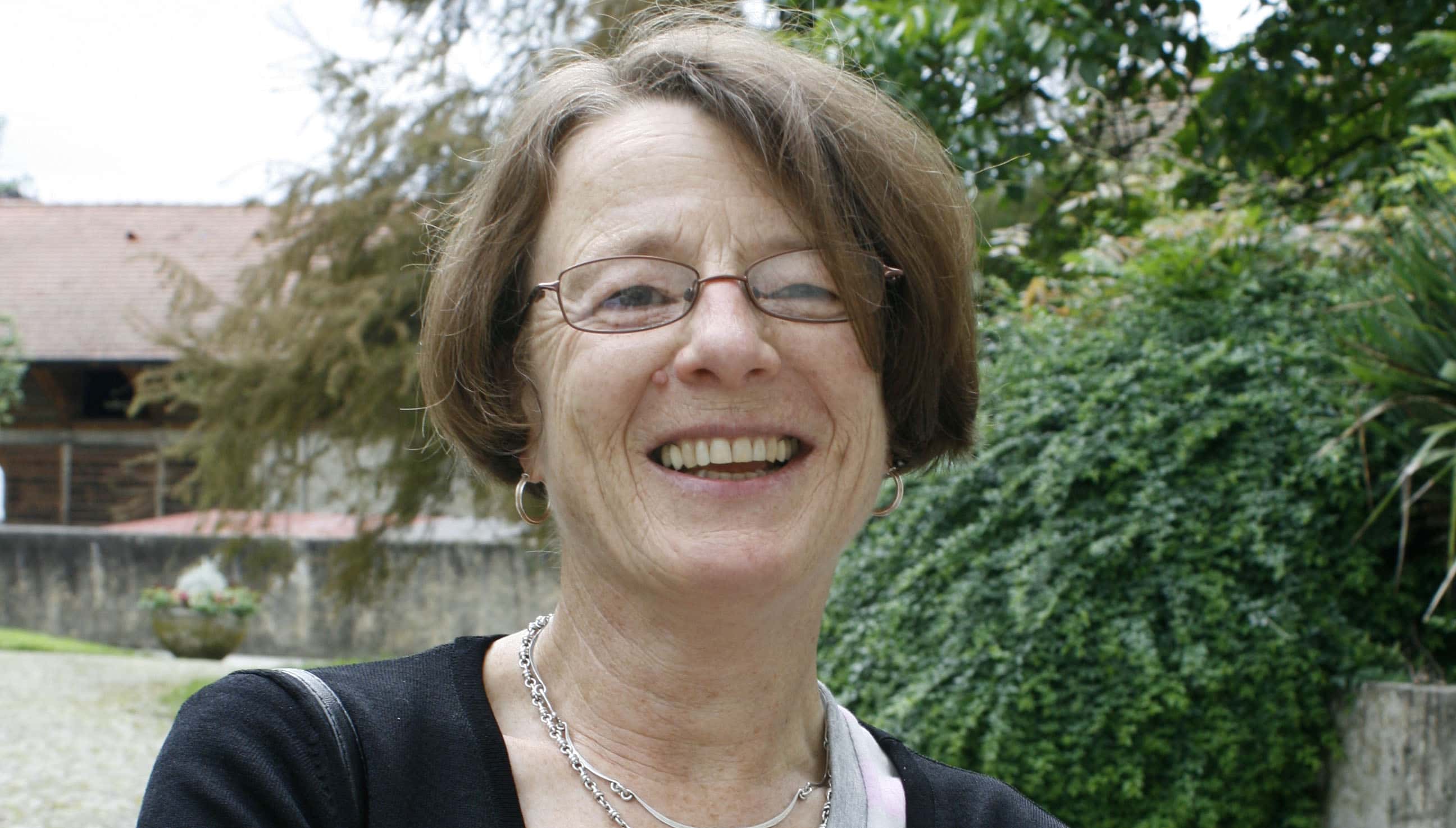 Q&A with Chris Bonner WIEGO's Director of Organization and 
Representation Programme
Q: Could you briefly tell us about your role as WIEGO's Organization and Representation Programme Director and your approach to organizing informal workers?
The Organization and Representation Programme (ORP) is one of the central pillars of WIEGO's work. Why? Renana Jhabvala, WIEGO's Chairperson, summarized the reasons at our recent Advisory Committee meeting: "WIEGO's direction is, and should be, set by MBOs [membership-based organizations] of informal workers. Informal workers are the heart of, and give direction to, WIEGO." For this to happen, informal workers must be organized into democratic and representative MBOs, such as trade unions, cooperatives and worker associations, and then into national and international alliances and networks. 
The main role of the ORP is to support the development and strengthening of informal worker MBOs and their national and international alliances and networks, and to facilitate their participation in negotiating forums at all levels. In other words, to ensure informal workers have a voice in policy and negotiating forums relevant to their work and lives. Very importantly, it plays a role in helping bring informal workers into the labour movement. For example, WIEGO, through the ORP, in partnership with the International Union of Food and Allied Workers (IUF), was instrumental in helping domestic workers organize globally into the International Domestic Workers Federation (IDWF). This is the first international federation of (primarily) informal workers, the vast majority being women, which is fully accepted as part of the labour movement.  
To this end, the ORP Director has to coordinate, and participate in, projects and activities across Asia, Latin America, Africa, Europe, and North America, working with domestic workers, home-based workers, street vendors, and waste pickers. ORP activities include building organizational and leadership capacity, working in particular with sector networks; developing materials and resources; and bringing informal workers together within and across sectors—a convening and facilitating role. This can only be done through team work, and we work with a range of people and organizations inside and outside of WIEGO: WIEGO team members, consultants, MBO leaders, sector network coordinators, supportive NGOs, and the trade union and cooperative movements.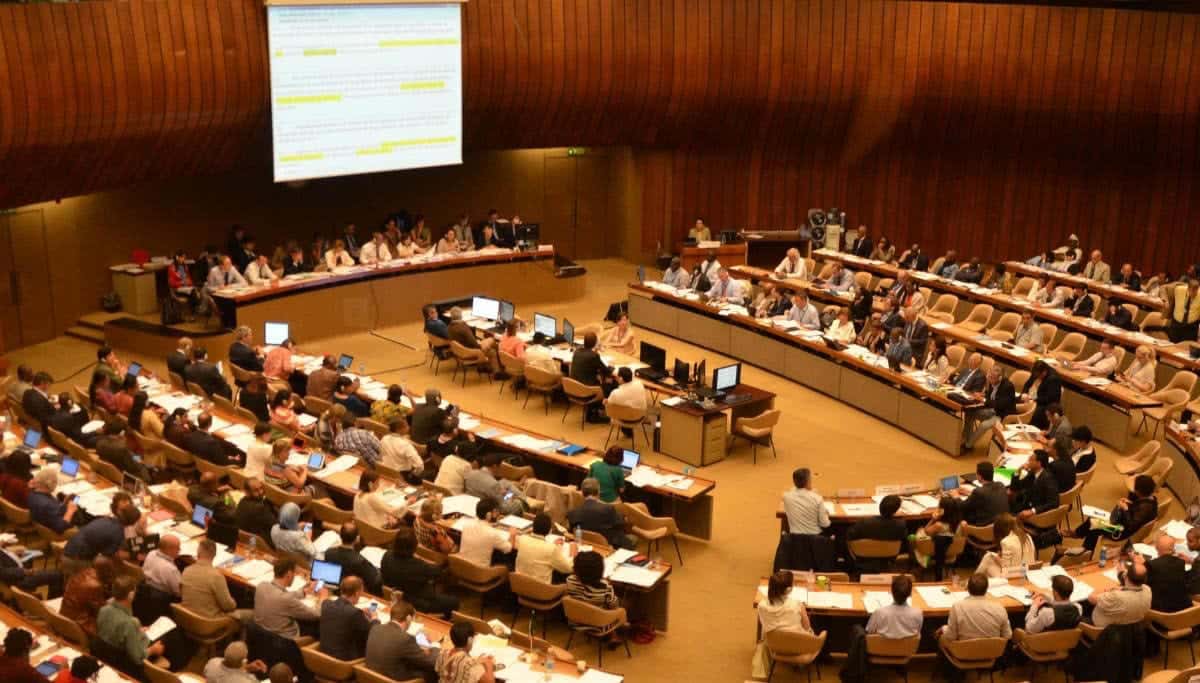 Photo: S. Trevino
Q: You recently returned from the 2015 International Labour Conference (ILC) in Geneva where the first-ever labour standard for all informal workers was adopted: Recommendation No. 204 on transitioning from the informal to the formal economy. Were you pleased with the outcome? Could you talk about what this means for informal workers around the world?
Overall, we are pleased with the provisions contained in the Recommendation, and with its almost unanimous adoption by governments, employers and workers. We think it marks an important step forward in the struggle by the informal workforce for recognition and for rights, protection, and opportunities, as well as shifting the discourse away from small entrepreneurs who evade taxes and regulations to vulnerable workers and economic units who need protection and incentives to formalize. The Recommendation is practical, providing guidance for governments in developing an enabling policy and legal environment, including protections and incentives, to facilitate the transition from the informal to the formal economy. It is also a tool that informal workers can use in their advocacy efforts and to negotiate for a range of improvements to their situation according to their specific circumstances. 
But of course negotiations always mean a compromise and we do not like some of the clauses in
the Recommendation!
As with all ILO instruments its immediate impact on workers' lives will be limited. Rather, it is a long-term process, with the Recommendation providing an impetus for all parties to get started, and a roadmap to follow, while respecting and supporting the rights and livelihoods of informal workers. 
So, you may ask why do we put such an effort in ensuring informal workers are directly represented and to trying to get their demands into such instruments if the impact on the ground is likely to be slow and/or limited? 
Firstly, we believe that it is important that informal workers are able to directly influence negotiations at whatever level when it concerns their work and livelihoods. Who, but those under discussion, can really say what are their needs? The slogan "nothing for us without us", widely used by informal worker organizations, sums up this notion. Secondly, although change takes time, ILO instruments do influence governments—in different ways and at different paces—so it is necessary to insert the voice of informal workers into such processes at the beginning. Thirdly, it is an important forum to educate and influence trade union leaders, many of whom have little understanding about informal workers, or how formal unions should relate—if at all—to democratic, membership-based informal worker organizations and their allies. Fourthly, by being part of the process informal worker leaders acquire knowledge and experience that they take back into their organizations. They are motivated and able to use the Recommendation as an organizing, educating, and campaigning tool. Many also meet their government representatives for the first time at the ILC and then use this to follow up once they get home.   
Finally, this ILC 2015 discussion was particularly significant for informal workers as the Recommendation adopted is the first ILO standard specifically about all informal workers. So informal workers had to be there!
Q: You were with a delegation of 32 informal workers at the ILC. What role do these representatives play there? How do you ensure the workers are a part of the process once they get to the conference?
The most important role they play is for them to be present and very visible to negotiators from
all three constituencies. As one worker said, "You are talking about us! We are real people and we
are here!"  
The negotiating process is very formal with long established procedures, which are quite bureaucratic. For example, in the tri-partite committee meetings, the Workers' Group  (and Employers' Group) has only one spokesperson—no one else can speak from among worker or employer delegates. WIEGO is registered as an International NGO, and we have observer status. So it is always a struggle to find ways into the process. But we do! 
Our main formal space is within the Workers Group, which meets, usually twice a day, to prepare positions prior to tri-partite committee negotiations. As "NGO" delegates informal workers can speak (with the permission of the chair). However, it takes confidence to do so amidst the outspoken trade unionists! Our SEWA sisters played a very important role as our main speakers. They put forward our positions strongly. The fact that SEWA is an affiliate of the International Trade Union Confederation (ITUC), and the three SEWA participants were official ITUC delegates, was very important in ensuring they were respected and listened to. Others spoke up too, particularly on important issues like representation by informal workers, preservation of livelihoods during the transition, and inclusion of cooperatives.  
Outside of the main debate we exploit every opportunity for informal workers to put across their issues. There are short, formal speaking slots provided for NGOs in the tripartite committee, and in the main assembly hall plenary. We make sure we take up these spaces. This year, Lourdes Gula (Philippines), Juliana Brown-Afari (Ghana), Suntaree Seang-Ging (Thailand) and Gladys Mponda (Malawi) all gave formal speeches. Others participated in side events such as those organized by the Nordic School, where they told of their experiences as informal workers. But perhaps the most important work is done behind the scenes informally, in meeting with government representatives, trade unionists and sometimes with employers to advocate and persuade. Of great importance, too, is the communication and cooperation with the worker chairperson (spokesperson) and secretariat, and especially providing information and arguments to be used in the negotiations.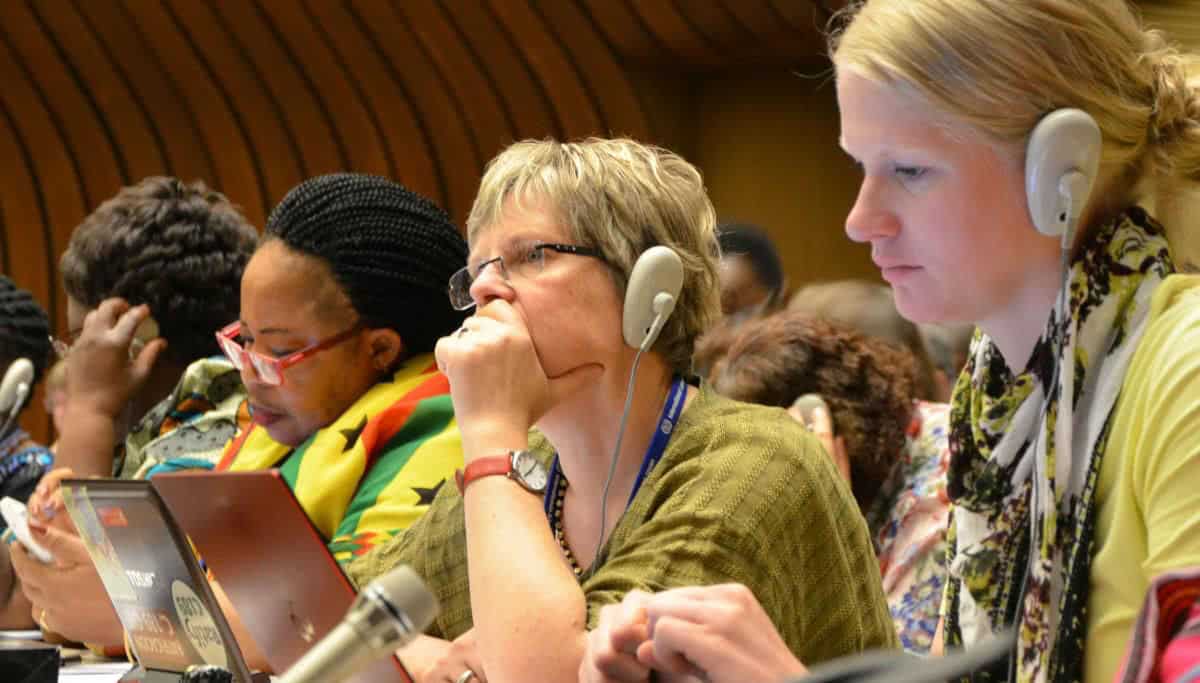 Photo: S. Trevino
 Q: Tell us about a typical day at the ILC. How do you prepare the delegation each day? What are the biggest challenges? 
First of all we get up early and rush to the bus stop in order to arrive at the Palais (UN building where the negotiations take place) before 8 a.m. There we hold a daily meeting to review the previous day's negotiations and other activities (such as speaking in side meetings), make sure everyone knows the programme for the day, and then discuss and strategize for the day ahead. Interestingly, not only "our delegation" participates in these meetings but other allies from trade unions and NGOs come along, too. Then, it is off to the Workers' Group to prepare for the tri-partite meeting that follows. Lunchtime is usually busy with caucusing, advocacy, intense discussions, networking, and side meetings organized by different groups. Then back to the Workers' Group followed by the tri-partite negotiations. The negotiations may end by 6:30 p.m. but sometimes run until after 9 p.m. This year things moved more smoothly than in 2014, where we had many more late sessions, some finishing at 10 p.m., necessitating a long wait at the bus stop for the last bus home.  
One of the biggest challenges is that things move very fast in the negotiations and if you miss the boat in persuading the Workers Group to adopt a position, which is then motivated in the tri-partite committee, it is difficult to bring it up again. Particularly, in this second year of negotiations, there were already agreed positions that were hard to change, and in fact the leadership of the Workers' Group and the Employers had struck a deal before the ILC resolving some clauses that were contentious last year. They were anxious to stick to the agreement. From our side sometimes the workers didn't quite know how and when to intervene in the Workers' Group discussions—
particularly as last year our right to speak in the Workers' group had been restricted. Towards the end the group became braver, and spoke out more, and we managed to squeeze in important points right at the last minute!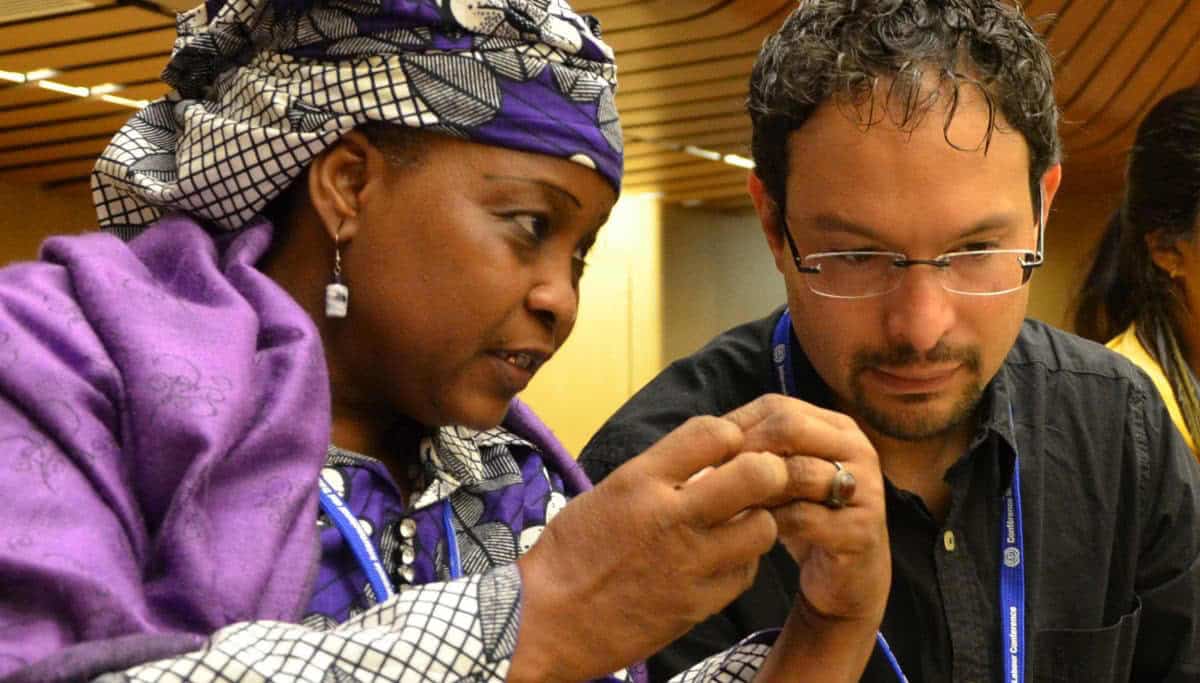 Photo: S. Trevino
 Q: Is there any moment that stands out in your mind from the conference that made it possible to reach an agreement that was relatively favourable for informal workers?
I can't think of any moment in particular. What I do think was very important in achieving a Recommendation that contains many important informal worker demands was the commitment by the key people in ITUC—namely the chair and secretary—to a Recommendation based on rights, protection and incentives for formalization. Key to this was an exposure visit organized by SEWA in April 2015, which greatly enhanced the understanding of ITUC and other worker leaders, and their commitment to, achieving a positive Recommendation for informal workers. We have to thank SEWA for this.
Q: Why do you believe it's important to have informal workers at the table at meetings like the ILC? How does this play into WIEGO's ideas of women's empowerment? 
I spoke already about the importance of being at the table at the ILC, and this applies more generally. We really need to emphasize this. The Recommendation itself is weak on the point of representation by informal workers; in fact, the issue of how informal workers should be represented in tri-partite forums at the national level was one of our big disappointments. It was very contentious in year one and the compromise adopted then remains in the final Recommendation, despite our best efforts to change it.  
To answer your question on women's empowerment, it is a truism that men more often than not are the leaders in union or political organizations, and in negotiations, these leaders represent women (even where women form a majority in the constituency).  Ensuring that women are fully represented in delegations and negotiating forums, and can speak for themselves, is one of the most
empowering activities.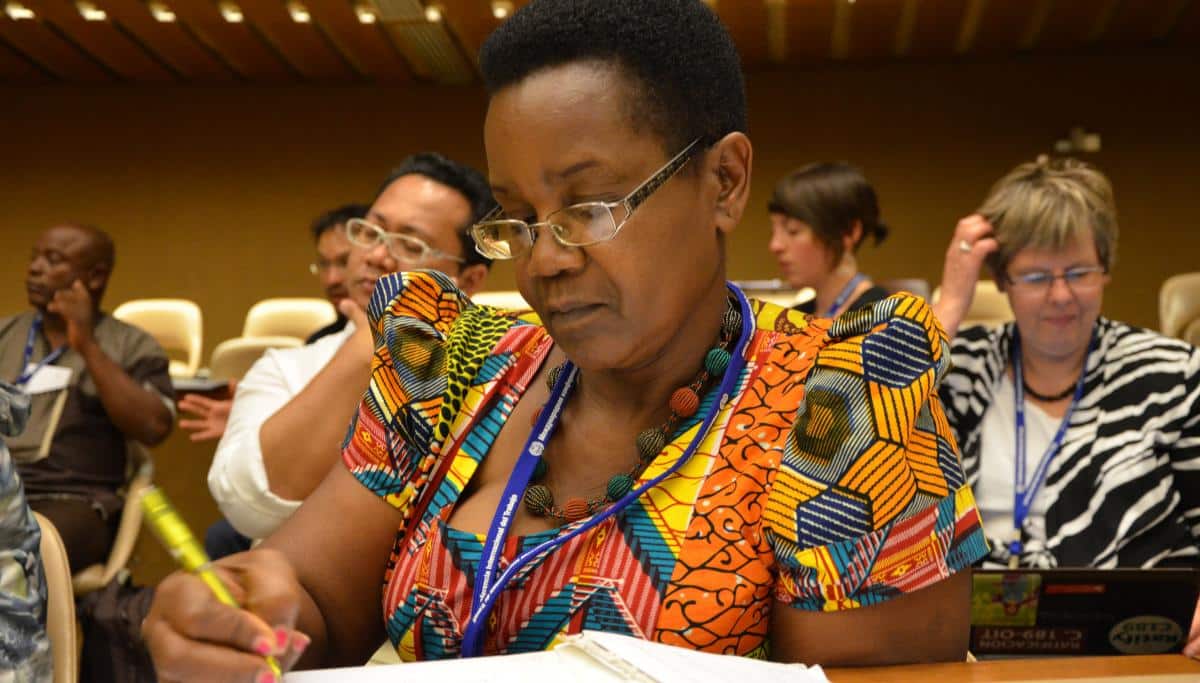 Photo: S. Trevino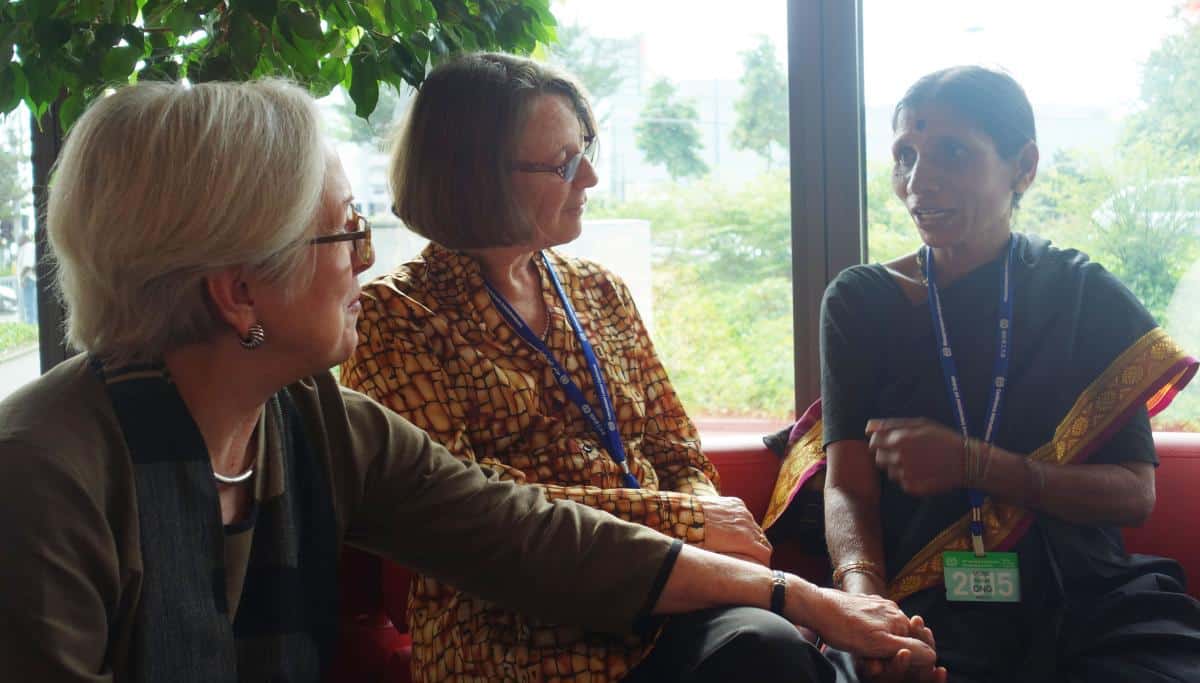 Photo: S. Trevino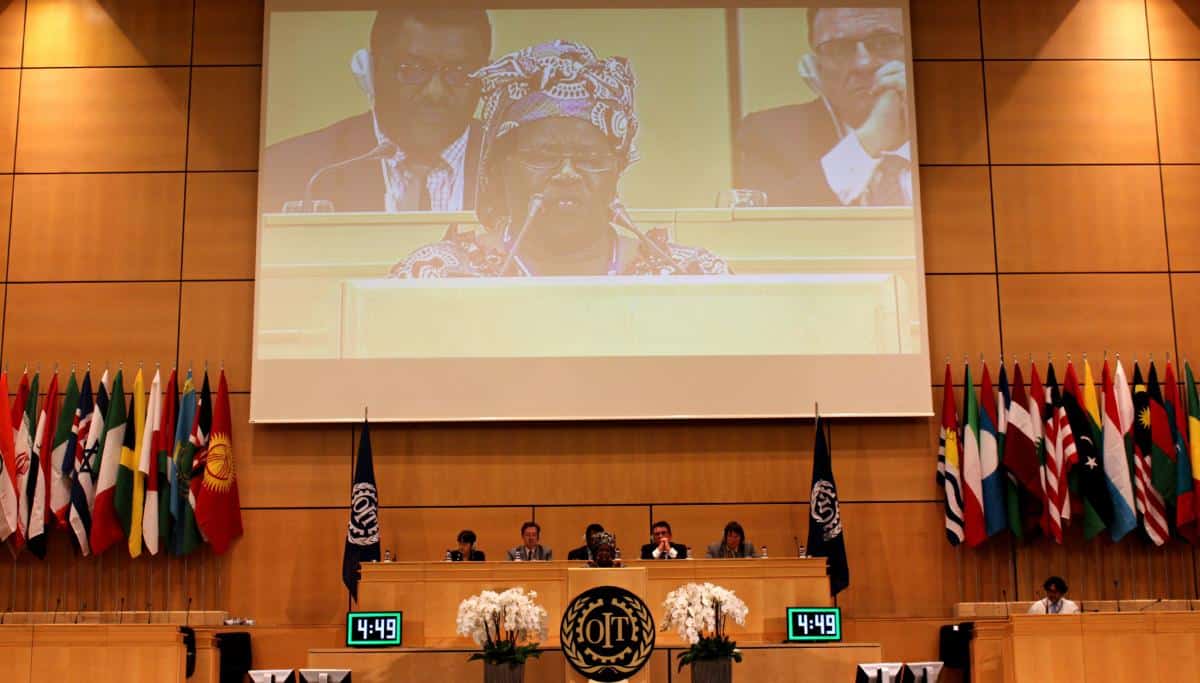 Photo: K. Hughes
 Q: Recommendations don't get adopted overnight. In this case, it was a two-year process. Can you talk about the process leading up to the recent adoption? Were there any new strategies/ideas you implemented this time that could be useful in the future? 
This Recommendation is part of an even longer process within the ILO. Discussions on the informal economy started as early as the 1970s, but the main milestone was the conclusion on "Decent Work and the Informal Economy" adopted in 2002, which established that informal workers, including own account workers, are workers that should have rights and protection like other workers. Thirteen years later, we have a formal ILO instrument, a second milestone. But I must say, in achieving this second milestone, some of the contentious issues in 2002 had to be argued again, such as own account workers as workers—even within the Workers' Group!
In preparing for the negotiations there were several activities. In early 2013, WIEGO convened a Working Group consisting of WIEGO ORP team/advisory committee members, sector coordinators, and trade unionists from among our institutional members, including SEWA. This group coordinated and planned our involvement. 
The first action was to ensure participation in the tri-partite Experts Meeting, which provided important input into the development of the instrument. Renana Jhabvala and Manali Shah were invited as SEWA "experts". WIEGO struggled to get an invitation but finally did so as an observer. Karin Pape and I participated in the Experts Meeting, as did Vicky Kanyoka of the IDWN (now IDWF), and had speaking rights. Thereafter, in 2013, WIEGO network members engaged with the first report and questionnaire circulated by the ILO and gave our comments—a process repeated in 2014. In the first half of 2014, WIEGO, working with partner organizations, organized three regional workshops: Asia in Bangkok; Africa in Johannesburg; Latin America in Buenos Aires. The main task of these workshops was to participate in building a unified informal worker platform that would be used as the basis of our engagement at the ILC, and to influence union, government, and employer delegations. The result was the WIEGO Network Platform on Transitioning from the Informal to the Formal Economy in the interests of informal workers to which organizations contributed. As WIEGO, we produced several other background documents on the informal economy to be used in the negotiations as possible and as needed—an important "hidden" contribution to the process!
The ILO produced a second report and a draft conclusion document, forming the basis of the negotiations in 2014. We drew up some proposed amendments, which we circulated to leadership in the Workers' Group together with our Platform prior to the ILC 2014. I must say the first year process was pretty chaotic and delegations from the tri-partite delegations, including the workers, were ill-prepared, with a poor understanding of the informal economy and informal workers. Employers and workers were poles apart: employers' focus was broadly on formalizing entrepreneurs and small businesses to reduce competition while the workers broadly focused on rights—although not without internal differences and disagreements. The resulting Conclusion formed the basis for a draft Recommendation. 
Although we were unable to organize regional workshops in 2015, there were a number of activities network members engaged in during the run up to the ILC 2015:  participation in preparatory country or regional workshops organized by ITUC or by the ILO such as those convened in India, Peru, and South Africa, as well as at the international ITUC workshop in Copenhagen where the unions were doing final preparations. We again prepared draft amendments and submitted these early to the Chair and Secretary of the Workers' Group. And finally we arrived in Geneva at the start of the negotiations with our delegation. This included most of those present in 2014 with one or two changes/additions. This time we, or partners themselves, were able to secure funding for some delegates from other supportive organizations such as ITUC, Justice and Peace, the AFL-CIO's Solidarity Centre and the Belgian trade union, ACV-CSC.
Our approach and strategies employed for the ILC process were based on past experience and earlier learning. WIEGO, as well as IUF, SEWA, and StreetNet, have been co-ordinating delegations of informal workers to relevant ILC discussions for around 20 years—beginning with the Home Work Convention negotiations in 1995-1996. The negotiations for the Domestic Workers' Convention (2011) were a very important, recent learning experience. So rather than new strategies, we built on those already established.   
These include attempting to get informal workers into formal trade union delegations so they had a "formal" right to speak in the Workers' Group; coordinating the informal worker leaders and their allies through the morning meetings; preparing a platform of demands; and providing background research to assist the negotiators, drawing on the wider WIEGO team. In fact it is important to note that although engagement at the ILC falls primarily within the ORP's scope, it actually represents a good example of WIEGO's overall approach where team members from different programmes contribute their different expertise and experiences in support of MBOs. We drew on existing and new research on the informal economy, urban policies, social protection, statistics, etc. and provided new publications and documents, working with the Communications Team. Members of the Programme Support Team were with us in Geneva, to provide participant "care" and keep everyone up to date through social media. The WIEGO events coordinator managed all the travel bookings and our Europe Advisor managed local arrangements, liaison with other groups, and provided expert guidance on the ILO procedures (and being herself a trade union delegate provided us with some inside information!). One of the lessons perhaps we did not follow from previous ILC negotiations was the need for the group to have their own pre-conference meeting to ensure everyone's understanding of issues, roles, and, importantly, to build confidence and know-how on when and how to intervene. We knew this was important but resources were limited and we tried to get as many participating as possible and sacrificed this important part of the process.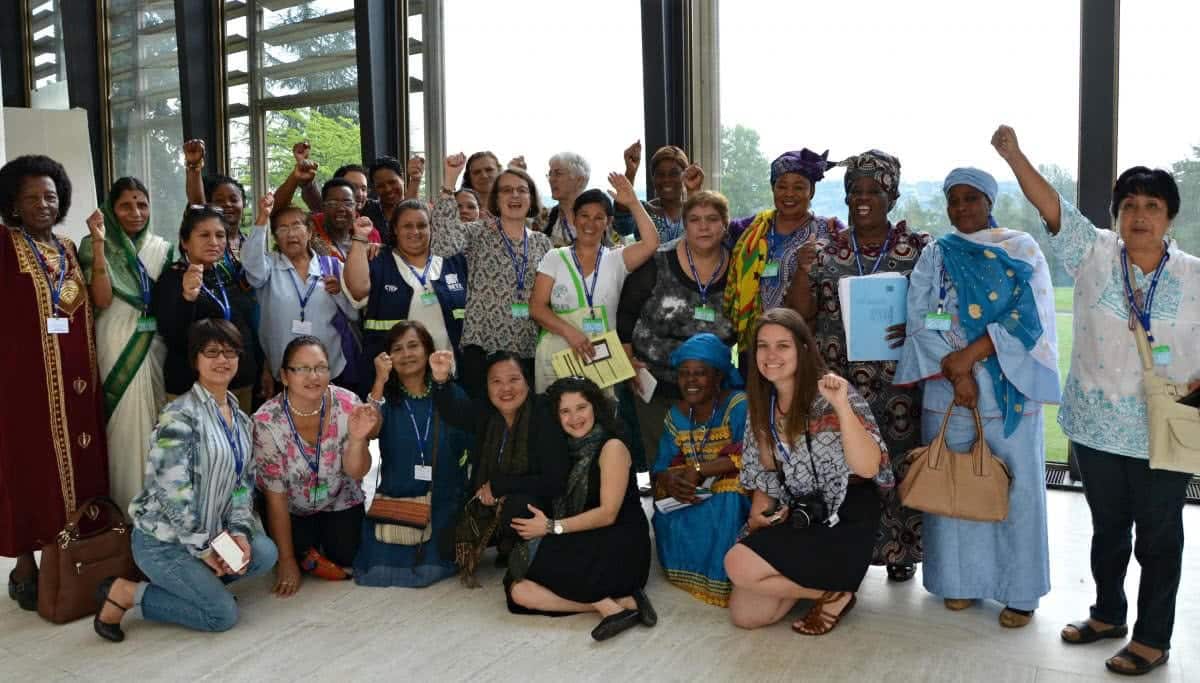 Photo: S. Trevino
 Q: Now that the Recommendation has been adopted, the next step is implementation. What does this mean? How does this happen?
From the side of the workers, it means they now have to work hard in their countries to exploit the opportunity this brings to engage governments, enlist the support and commitment of trade unions, and, where possible, gain the support of employer groups for policy changes proposed or agreed. 
This means they first need to report back to their members and mobilize around issues most relevant in their country and at the local level (the most important level for many informal workers). They then need to develop a strategy on what to take up with governments, at what levels, and how to do so. They need to work hard with trade unions to ensure that they include informal workers in negotiating forums—not speak for them—where issues regarding informal workers are discussed. An important entry point into discussions with governments, employers, and unions on implementation is through the ILO country or regional offices. The group discussed implementation before we left Geneva, as did the ORP Advisory Committee, and we agreed that it was important to enlist the support of the ILO as an important ally in implementation.  
It will be a long-term effort that requires on-going strong organization of informal workers, working with allies, to ensure the Recommendation is a living document that is used to guide change in favor of informal workers: in social protection; in worker rights, such as collective bargaining; in support for cooperatives; in provision of skills training; in opportunities for work through contracts or formal jobs; and so on. It is also very important that pressure is put on employers and governments to halt the rapid informalization of formal jobs; without this, formalizing the informal economy becomes something of a contradiction.
Leer este artículo en español.
Related Posts
Informal Economy Topic

Language
Wiego on Twitter