Hero Image
By
Yola Verbruggen,
Ana Carolina Ogando,
Marcela Valdivia
Workers in the informal economy lost close to 80 per cent of their earnings as the pandemic took hold. They were essential to sustaining food, care and waste management systems during the crisis, yet were the hardest hit hard through being unable to contribute to social security schemes and excluded from benefits for the most vulnerable. 
Worker organizations were essential in sustaining the needs of workers in the informal economy, particularly where governments failed to provide this support. 
"We have not seen that the government has given us any relief because the government doesn't know where we work and doesn't know what we are doing. [It] doesn't know the role we play." – Waste picker, Accra 
These were some of the most crucial issues workers faced during the pandemic, based on the interviews conducted for WIEGO's COVID-19 Crisis and the Informal Economy study as lockdowns were imposed worldwide:
What are you most afraid of?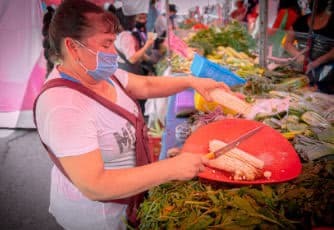 "People say, 'if I don't go out and work, I'll die of hunger, so I go out and work. The risk is that I get sick and die, but if I don't die of one thing, I'll die of another. So workers don't have a choice, they are not pretending to be brave, but their needs push street vendors to go out and risk it all in the public space." – Street vendor, Mexico City
The fears workers faced varied from the inability to work and the duration of the lockdown – which would leave them unable to pay bills, rent and put food on the table – to fear of the virus itself yet having to continue working. Workers were also afraid of entering hospitals, with worries including contracting the virus, being unable to pay the hospital bills, being stigmatized for having COVID-19, and being quarantined.
What has lockdown been like for you?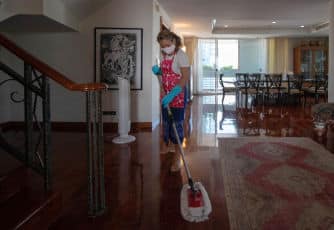 "I have to double my cleaning routine and I have to do extra cleaning. I need to check every nook and cranny is spotless. The female employer will check after me. I am under her watchful eye and everything I do from eating, sitting, or lying down is being [done] under her watch."– Domestic worker, Bangkok 
When governments around the world encouraged people to work from home, workers in the informal economy faced very different lockdown struggles: work dried up for home-based workers as supply chains were disrupted; many domestic workers faced isolation and stress in their employers' homes, while others lost their jobs; street vendors faced harassment and stigmatization – workers in Delhi were beaten, while the authorities in Mexico City confiscated vendors' equipment; and waste pickers saw a drop in prices for the recyclables they collected, when given the chance to go out to collect at all. Increased care responsibilities fell predominantly on women, who as a result had lower earnings during and after lockdowns.
How does your loss of earnings affect your family?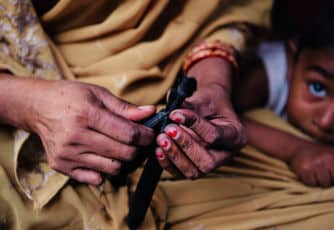 "Sisters are surviving in great difficulty, whatever savings they had have been eaten into. With great difficulty they managed to save something ... they've taken loans. We've distributed rations through SEWA to many sisters, we've gone home to home and see what difficulty they're experiencing, they didn't even have anything to eat. – Home-based worker, Delhi 
Unable to work, many workers and their families went hungry during lockdowns. More than two in every five workers with children said that a child in their household had gone hungry after the April lockdowns. In Tiruppur, adult or child hunger was experienced in the homes of half the workers, while in Durban, South Africa, this was as much as four in every five. 
How are you managing financially?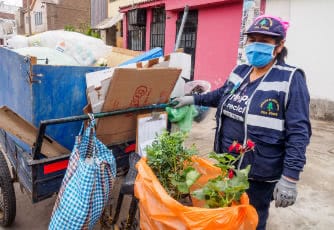 "Many are in debt ... for example, I owe my municipal tax, others owe their internet, many have had to suspend it and others have to pay no matter what. That is why, day and night, they are looking out for recyclables. Those who are parents even go on until dawn and if there was no curfew, they'd be out since dawn ... but because of the curfew, they work as long as possible to make something for their children". – Waste picker, Lima 
Over 40 per cent of workers depleted their savings when their earnings plummeted during the pandemic. The same percentage of workers live off their daily earnings and have few or no savings, leaving them no choice but to borrow money to keep a roof over their head, put food on the table or send their children to school.
What do you need from the authorities to get back on your feet?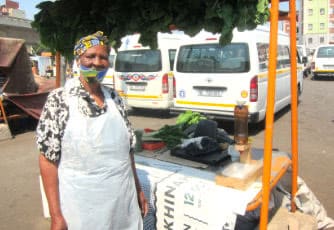 "We need support from the government: our markets are not safe and not hygienic, some of the traders do not even have a shelter to trade under. Sanitation is the biggest issue during this pandemic: no access to water and some toilet facilities are not functioning. If the government can fix that, customers will feel safe to come and purchase goods in the market." Market trader, Durban
Workers need governments to commit to stopping harming their livelihoods through punitive policies and other forms of harassment. They need financial assistance to pay off debts and restore savings and assets, including short-term cash grants, moratoriums on payments and debt forgiveness, and low-interest business loans. For those working in public space, historic demands for safer workplace infrastructure, including sanitation facilities and personal protective equipment are even more pressing with the effects of the pandemic.  
Top photo: Street vendor in Accra, Ghana. Credit: Benjamin Forson.
*The statements cited in the text were not made by the workers depicted in the photos.
Related Posts
Informal Economy Topic

Language
Wiego on Twitter