Hero Image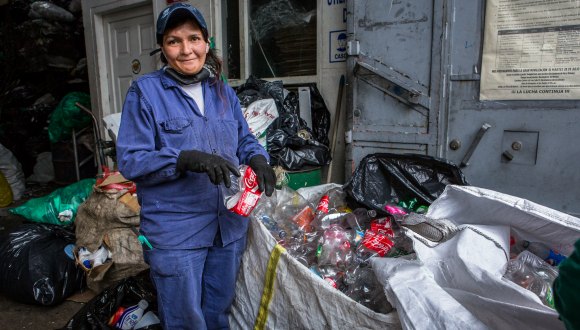 By
Federico Parra,
Olga Abizaid
By Federico Parra & Olga Abizaid
Medellin has recently been touted as a poster city for urban development. In recent years, the city has overcome the daunting urban economic and security challenges it faced in the 1980s and has evolved into a vibrant metropolis. The feat, according to many, was achieved by promoting inclusive urban planning and listening to the voices of everybody – including those in greater disadvantage. 
Among them are the 3,663 waste pickers who make their living by collecting recyclables in the city – sometimes door-to-door, most times on the streets. The environmental impact of their work is generally not recognized, yet it provides a breather for the city's landfill and raw materials for industries, improving the lives of the 2.5 million people living in the city. 
In the last decade, however, there have been some changes. Waste pickers in Bogota, Colombia's capital city, have made great strides on a national level – efforts that are now being seen around the country. Bogota's waste pickers' legal advocacy and the resulting pronouncements of Colombia's Constitutional Court have led to the development of a national legal framework that mandates the inclusion and remuneration of waste pickers for the services they provide to society. 
"If we looked back ten years, back then nobody knew who we were and what waste pickers did. Now, with what has happened and because of the legal framework, [we] are now recognized by the municipality," says a women waste picker leader from Medellin. 
Medellin's municipality has made some strides towards the inclusion of waste pickers. Some of the policies include the development of the 2013 census, the provision of ID cards for waste pickers and capacity building for their organizations. Medellin has also entrusted some waste pickers' organizations with the management of collection centres in the city. And there is some level of coordination with the municipal waste management company, EMVARIAS. Medellin was also a pioneer in engaging waste pickers' organizations in the discussions around the municipal solid waste management master plans – even before that became mandatory with the issuance of National Decree 2981 of 2013. 
But inclusion remains an unfinished task. For starters, most waste pickers are still not organized. And even for those who are, the new legal framework states that to become public service providers, waste pickers' organizations need to comply with many formal requirements. To meet them, they need, among other things, to develop managerial and accounting skills, as well as the ability to relate with end users. They also need to acquire the necessary infrastructure to deliver recycling services.
The Asociación Nacional de Recicladores (ANR) and the Asociación de Recicladores de Antioquia, in tandem with support organizations like WIEGO and Fundación Familia, are providing local organizations with training on the legal framework and the requirements that must be met and sharing experiences on how to negotiate for payment for their services. 
While Medellin's master plan foresees some support for three years, it is important that the city take into consideration the realities of the organizations, which are at different stages in their organizing processes and in their process to comply with the municipal requirements to become public service providers, and plan for adequate support and timelines for waste pickers' transition towards formalization. 
That is not waste pickers' only worry: they fear that while they are working towards meeting the requirements, recycling may be given to other actors. 
For the formalization process to be effective, it is important that waste pickers' livelihoods be protected during the transition. Formalization cannot be done overnight; it should be a gradual process, as was stated in the International Labour Organization (ILO)'s Recommendation 204 on the transition from the informal to the formal economy. In the process to include waste pickers into solid waste management, the city government in Medellin should develop a solid work of engagement and accompaniment with waste pickers' organizations. Only by doing this will it ensure waste pickers will be able to meet the requirements demanded of them.  
"We need to make them understand that there are things that we waste pickers can do directly, and that if even if we cannot do them, we want to be taken into consideration to give feedback and provide ideas," says a Medellin waste picker. 
Medellin's past urban achievements are grounded in the fact that inclusion of disadvantaged populations is key to building the city's prosperity. Right now, the city government has a unique opportunity to make a difference for waste pickers if it stays true to its original mantra of making a better and more equal city for everybody.
Photo credit: Juan Arredondo/Getty Images Reportage
Related Posts
Informal Economy Topic

Occupational group

Region

Language
Wiego on Twitter