Hero Image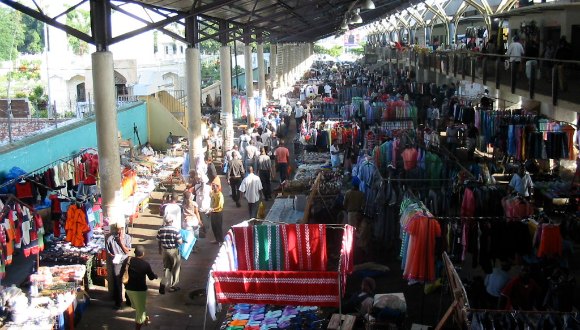 By Carlin Carr
Durban's busy downtown market, Warwick Junction, whizzes with all the hustle and bustle of a thriving public space. Nearly a half a million people pass through the market every day, as the space is South Africa's largest transportation and trading hub. An estimated 8,000 traders provide market-goers with a delectable array of options, such as "traditional African herbs and medicine, artisanal goods, and fresh produce," says an article celebrating the vibrancy of the place. Like many markets, however, Warwick Junction poses many health and safety hazards both to vendors and the public.
Recently, WIEGO, in collaboration with our local partner NGO Asiye eTafuleni (AeT), piloted a project, named Phephanathi ("Be Safe with Is" in isiZulu), in Warwick Junction to engage informal traders in the development of a health and safety system for eight areas of the market. The Phephanathi project focused on a collaborative process for market traders and local government officials to develop a disaster response plan together. As a first step, the project focused on improving the understanding of workplace hazards and how to manage them. Traders have to see a point in taking health and safety seriously, and city authorities have to be encouraged to see traders not just as people taking up the sidewalks but as workers who need services and have rights. 
Organizers started with two hazard mapping walkabouts involving AeT, traders, and city officials, mainly personnel from the fire department and a representative from Disaster Management. They walked through Warwick Junction's markets identifying fire risks or hazards. During the walk, the groups checked fire extinguishers to see if they were in working condition and also to see if there was adequate water in the markets in case of a fire. Both traders and city officials immediately recognized risks throughout Warwick Junction. The second walkabout aimed to map environmental sanitation hazards, and included a representative from Environmental Health and Fire Safety.
Next, the project focused on training to raise consciousness among traders about the idea of the "workplace" and to empower them to better advocate for a healthy and safe workplace for themselves, their customers, and commuters walking past. The trainings included health and safety and first aid for traders as well as fire marshall training. Importantly, the training was followed up by mobile phone text messages that were sent to participants on a weekly basis. The project used Frontline SMS to send health messages to 550 traders – a key step in maintaining behaviour change.
The other focus of the Phephanathi project was to improve the infrastructure for risk management. Utilizing a free crowdsourcing platform, called Ushahidi, users could send information about a hazard and its exact coordinates to a central system that would then generate a hazard map. Ushahidi was used to map fire and sanitation risks in Warwick Junction market (see Figures 1 &2 below).
Figure 1 Sanitation mapping at Warwick Junction using the Ushahidi platform.
Figure 2 Fire hazards mapped at Warwick Junction using the Ushahidi platform.
The Ushahidi Platform proved to be useful as a tool for recording hazards in Warwick Junction. In addition to the map that is generated, the "report" function keeps a description of the hazard, a photograph, and the date and time that the hazard was recorded. This allows for the development of a database of infrastructural problems and hazards within the market that can be updated on a regular basis. These reports can be used as an information source when working with local government authorities on improved service provision. Such reports can also be extended to harassment, evictions, crimes, and other hazards. 
As a result of the project, WIEGO and AeT were able to identify affordable alternatives to expensive fire-fighting and first aid kits
, helping to equip the market with necessary precautionary tools in case of an emergency. AeT prototyped cardboard cones that can be used to throw sand onto fires, as well as "green crosses" – highly visible A-frame stands for the first aid box. These low-cost fire-fighting and safety measures fit with the idea that solutions and training should be pitched at the correct level for the context: they should be implementable, desirable, and appropriate. 
The Phephanathi project's participatory process exemplifies the power of collaboration in creating more inclusive cities. Also, empowering market traders leads to more sustainable and systemic change, improving the health and safety of informal workers as well as members of the community who frequent the market. Furthermore, the communication that opened up between authorities and traders in the process – as well as the information gathered over the course of the initiative – can be used as a basis to collaboratively advance larger scale infrastructure upgrades in informal markets, creating better work environments for informal workers and safe public spaces for all.
Related Posts
Informal Economy Topic

Occupational group

Region

Language
Wiego on Twitter