Hero Image

Society is still not valuing domestic workers more than a decade after the International Labour Organization adopted a convention extending working rights to them. This has reinforced discriminatory policies, laws and employment practices that have forced these essential workers to be invisible and silent.
---
This is despite what seemed a huge victory for domestic workers when the ILO adopted Convention 189 12 years ago. These were the basic rights those in the formal sector had enjoyed for decades, like minimum wage, regulated working times, paid time off, social protection, and protection from harassment and violence at work.
But for domestic workers in Africa, the picture remained bleak. Only six out of the continent's 54 countries signed on to the Convention. Labour laws in many African countries either do not see them as workers, or do not effectively protect them in light of their unique work setting.
---
Ratified or not
June 16th marks the 12th anniversary of International Domestic Workers Day. It marks a day to reflect on the progress we have made, but also to refine the strategy to make the Convention real, whether governments have ratified it or not. One of these paths is for workers themselves to use the power of the law.
Of course, we still need governments to play their role in translating technical international agreements into laws and policies in their countries, but it is dangerous to think that a top-down approach will be enough to bring about real change. Real change will also require action from the bottom up, and also the recognition of domestic workers as key agents in bringing home the gains made on the international stage.
In the wake of the Convention's adoption, worker leaders found the idea of confronting their governments daunting: "I never thought that we as domestic workers could speak to the government" was a common refrain. Also, "We were scared to talk about the Convention because our government had not ratified it."
---
Unions fighting through advocacy and media
A programme created by Women in Informal Employment: Globalizing and Organizing, and the International Domestic Workers' Federation seeks to empower domestic worker leaders to make C189 real by building their capacity to understand the Convention and develop their collective bargaining and negotiation skills. Central to this programme is the idea that domestic workers can contribute towards implementation of the Convention by negotiating directly with their employers to gain rights, such as through written employment contracts. It also includes legal tools that domestic worker leaders can use to understand the key provisions of the Convention, to identify areas where national laws regulating domestic work fall short of the Convention and to demand that their governments address these shortcomings.
In Tanzania, the domestic workers union has conducted a series of awareness-raising and advocacy  campaigns, with each one targeted at implementing one principle in the Convention. This has resulted in positive gains on issues like minimum wages even though their government has not yet signed on to the Convention. The Conservation, Hotels, Domestic and Allied Workers Union (CHODAWU) also participated in negotiating and concluding an MOU with an association of 14 employment agencies that send domestic workers abroad. It is also demanding that the government should consult them during negotiations to conclude bilateral agreements that regulate the migration of domestic workers.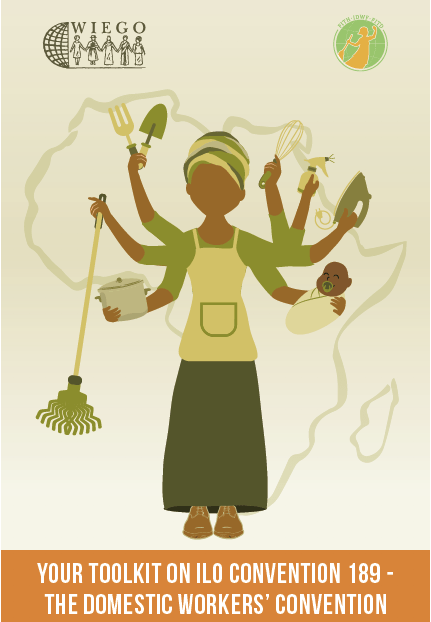 Domestic workers can use the Convention as a shield to protect themselves from abuse by the authorities. When Pamela - a Kenyan union leader - was arrested and jailed for recruiting fellow workers in a residential estate, she called her daughter to bring her Toolkit on C189. "I showed [the prison authorities]  my book. I told them that I have rights and had done nothing wrong." Confronted by the weight of an international agreement, the authorities released her.
Unions have explored other avenues to educate workers and employers on their rights and duties.  The Zimbabwe Domestic and Allied Workers Union has conducted media campaigns to educate workers and the public in general about the protections that Convention 189 provides. This got the attention of some employers, who decided to establish the Zimbabwe Domestic Employers' Association – a rare occurrence in any country – to promote good employment practices. These practices include providing workers with  signed contracts and paying them a living wage.
---
Reclaiming the power within
Now, domestic worker organizations must not only demand and fight for the rights and protections in the Convention, but rewrite their story to inspire a cultural shift towards recognizing their value and socio-economic contribution. This will enable society to see them as key actors in their struggle for decent work.
Legal empowerment for domestic workers means more than knowing about their rights, and includes shifting their mindset about their work and building their confidence in themselves and the work that they do. This is necessary to subvert the power dynamics that often lead to their characterization as (at best) recipients of the benevolent acts of their employers and the state or powerless, voiceless individuals who cannot speak truth to power. Empowering domestic workers is not about giving them power, but enabling them to reclaim the power that has always been within them.
Helping them to remember that theirs is the work that makes all work possible has emboldened them when they engage with the government. One leader recalls: "We told them that the Minister and even the President cannot go to work if they don't have a domestic worker." Learning how to negotiate effectively has also enabled them to know when to exercise power in subtle ways, especially against employers who can fire 'troublesome' workers on a whim: "We know what they like and what they don't like, so we find ways to ask them for something." While recognizing that change will not happen overnight, many leaders have taken the crucial step of abandoning their fear of the government and employers. As Aime from Togo says: " I am no longer afraid".
---
Top photo: For domestic workers like Anna Nkobele, based in Johannesburg, putting Convention 189 into practice is about realizing the power she already has. Credit: Jonathan Torgovnik. 
Related Posts
Informal Economy Theme

Informal Economy Topic

Occupational group

Region

Language
Wiego on Twitter