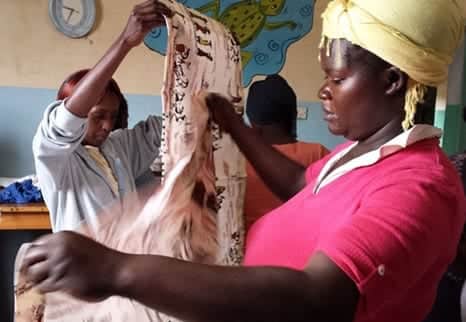 In a Nairobi slum, the women of  Bega kwa Bega are checking linens—table runners, decorative cushion covers and an ingenious pan carrier—and then packaging each piece. It's a flurry of activity. A buyer from Italy is coming to collect the 400-piece shipment in two days, and the women must ensure each item meets the demanding standards of this customer. The order is worth 305,000 Kenyan shillings for the self-help group; for the women who made the products, that represents a significant payment.
Both the large order and the careful attention to quality control are a sign of how much has changed since this group joined the Kenya Federation for Alternative Trade (KEFAT) in 2012.
Bega kwa Bega (in English, Shoulder to Shoulder) was started in 1992 under the auspices of the Catholic Church. Then, it was a social program for single mothers. Eventually, the group expanded to include others, and its ranks grew to more than 100 members before dwindling to almost none due to a lack of organizational leadership. But in recent years, Bega kwa Bega has become independent, reinventing itself as a fair trade enterprise that produces quality accessories and housewares.
"Now we are strong on our own. We are independent," explains Lucy Nyambura, who has been the treasurer of the organization since 1994.  But while the organization values its autonomy, the women value solidarity. "We learn from each other. We have that spirit, so we can achieve our goal."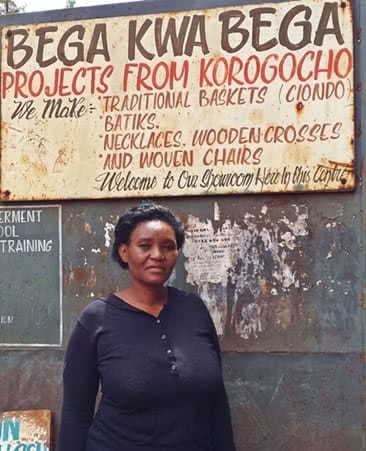 According to Lucy, much of the group's current success comes from participating in the WIEGO-led Leadership & Business Skills for Informal Women Workers in Fair Trade project.
It provided a range of training, including on the rights of women and their identity as home-based workers. Financial and business skills training—from record keeping to quality control, pricing and costing—dramatically improved the group's capacity to operate.
The project uses a cascading training approach, in which community facilitators are trained and then bring home their new knowledge to their groups. Lucy is a facilitator. "I trained everyone [in the group] on finance and recordkeeping" she says, "Now I do not have to be here all the time." While other people can record incoming items and pay the producer, she concedes that she does check to ensure everything has been recorded correctly.
The group has also grown. "Three years ago we were only 12 members," Lucy says. "Now we are 20." 
Last year, Bega kwa Bega opened a bank account and officially registered. It plans to make use of its official status to begin lobbying the government for improved services—especially water and sanitation—in this slum.
Through the project, Lucy travelled recently to a home-based workers' meeting in Uganda, where she met WIEGO's partners from around the world. She was particularly impressed by the solidarity of the home-based workers from India.
"They are so close and so organized. They have one voice, and they go one way. And they achieve what they want. We have to do that here," she says.
KEFAT Coordinator Edwin Bett says he has seen a great change in the attitude of these Kenyan women. The first training that he did, he refused to pay the "sitting allowance"—a long-standing practice of organizations paying people to attend a meeting. After his presentation, Edwin found himself locked in their offices, alone and unable to leave until he agreed to pay the women what they felt they were owed for their time.
"I had to explain to them that this training was for them, to help them," he recalls, "and that I would not pay." 
Today, Edwin and Lucy can laugh about it, but that afternoon it was a delicate negotiation.
"At the time KEFAT came in, we were down. We had no work, no money, so we weren't going to sit for nothing," Lucy explains. "Now we have realized it was for us."
Today, the group members are grateful for the training and support. Like Bega kwa Bega itself,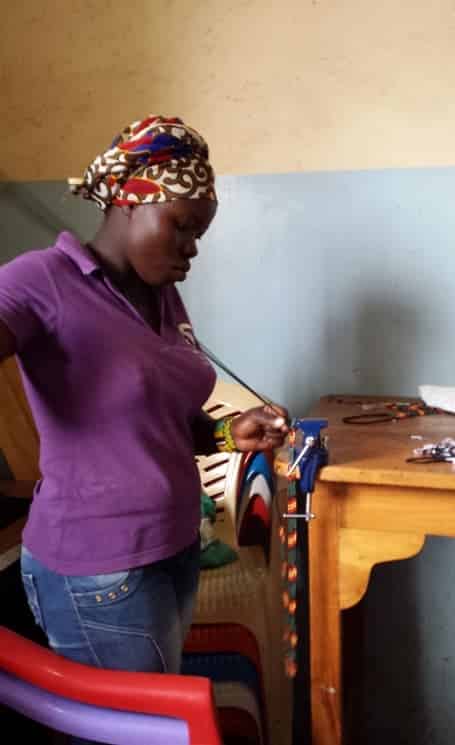 their incomes have risen from the ashes. On average, the women now make about 6,000 Kenyan shillings each month through external orders. To put that in context, it is about 13.5 days of work at the standard day labour rate in Nairobi of 450 Kenyan shillings.
But each month is different, and depends on the incoming orders and the amount of work an individual does. Currently, the complicated bead necklace many of the women are fashioning pays 180 Kenyan shilling each—and it is only possible to make two in a day. However, the US buyer who specified the design follows ethical trade practices, and Lucy says they will negotiate a fairer price.
"Because of the training, we know how to come up with the appropriate cost, how to add up our time and any materials, and we know we have the right to ask for a fair price," Lucy says.
For most of the women, this is not the only source of income. While Bega Kwa Bega works entirely on external contracts, making its members subcontracted homeworkers, most also create their own products as own account home-based workers. Then they sell these on the streets or in markets. Lucy and the others light up when they talk about the self-employed work. It is simply more creative and more enjoyable.
Another funder provided a computer, after the group realized its inability to communicate directly with buyers was hampering its income potential. The computer will let them stay in touch with current customers, find new ones and recapture old ones. To assist with marketing, KEFAT has helped them design a website; the group also has a brochure, and plans to try to place the best of its products in large gift shops.
When Bega kwa Bega holds its bi-annual elections next year, Lucy plans to put her name forward to be the next chair.  She says, "I always tell [the other women] we are going to fight for our rights. No one else is going to fight for our rights—it is just us. So if you want to be back, stay back. But we are looking forward."