OHS Project in India
In India, the OHS project worked in two cities. In Ahmedabad, Gujurat, WIEGO supported the work of the Self-Employed Women's Association (SEWA), which has promoted OHS for informal workers since the early 1970s.
In Pune, Maharashtra, the OHS project worked with the 8000-strong union of waste pickers, Kagad Kach Patra Kashtakari Panchayat (KKPKP) and its solid waste management cooperative SWaCH. Here the work focused on:
• integration of OHS into the union's general work activities 
• documentation of case studies on health and safety
• improving the organization's health, safety and social security data collection systems 
• supporting KKPKP's campaign on Extended Producer Responsibility.
Better Equipment for Better Health
For years, both SEWA and KKPKP have been developing equipment to benefit their members. The OHS project helped fund further development of proptotype equipment by prestigious design and technical institutes to improve working conditions for embroidery workers, cart pullers, papadum rollers, waste pickers and other informal workers.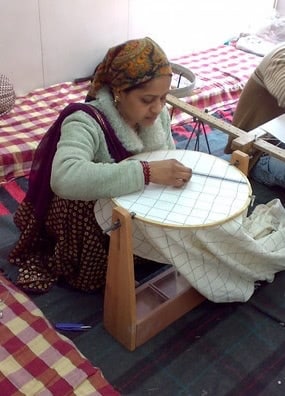 An assessment of the effectiveness of the new tools and equipment by Ajit Rajivia, a consultant with the Indian Institute of Public Health-Gandhinagar, found:
The new table developed for kite workers is not uniformly popular as some workers complained about the size and height of the table. However, workers who used the tables showed an increase in productivity of an extra 500 kites per day per person.
Waste pickers using the new carts were able to carry an extra bag of refuse, amounting to an increase in wages of about 20-25 rupees/day. One woman reported saving 400 rupees in medical expenses after using the SEWA equipment.
Sugarcane cutters reported that they were able to work faster with the newly designed cutters, with one user reporting that she was able to work at double her normal speed.
Embroidery workers experienced reduced back pain by using a prototype that allowed them to work more upright (photo).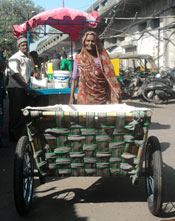 Report on SEWA's project: An Impact Analysis of Participatory Design and Use of Tools to Improve the Health and Productivity of Wommen Workers in the Informal Economy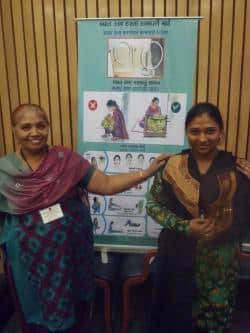 Seemaben, a SEWA embroiderer, showing off the work she created with her new embroidery frame developed by the SEWA OHS team.
SEWA holds State and National OHS Workshops in Ahmedabad and Delhi
As part of its OHS Project dissemination activities, SEWA held a state-wide and a national workshop on the 'Occupational Health of Women Workers in the Informal Economy.' The workshops offered platforms for the sharing of experiences and ideas in order to move the campaign for a more inclusive OHS forward in India. As Mirai Chatterjee, Director of SEWA Social Security, pointed out: it has been over 60 years since the Government of India's Bhore Commission Report recommended that occupational health services be integrated into primary health services and made available to all working Indians─with few results so far. Read more about this in OHS Newsletter 7.
Waste pickers argue for Extended Responsibility to apply to manufacturers of sanitary pads
One outcome of the project was a low-cost, environmentally-friendly solution to the disposal of maxi-pads. After it was estimated that only 12 per cent of India's women have access to sanitary pads when menstruating, the Indian government made efforts to manufacture and distribute sanitary pads at low cost. SWaCH pointed out, however, when sanitary pads are carelessly disposed of they can pose a real health threat to workers who recycle waste - workers who are also mainly women. In response to this, SWaCH developed a low-cost, environmentally-friendly solution, ST-Dispo Bags, and argued that manufacturers of sanitary pads should be compelled through Extended Producer Responsibility laws to include the Dispo Bags with their products. For the full story, read OHS Newsletter 6.