Photo: Laos textile worker, by Marty Chen
Informal women workers' low earnings mean they work long hours to meet their most basic needs, leaving little time for them to care for children living in their households. But children require care. Without quality child care services, women either forgo paid work or are less productive because they have to look after their children while trying to work. 
Child care is vital. Especially in the poorest households, the earnings of informal women workers are essential to the household.
A waste picker in Brazil said:
When there is no day care, I don't work.
For children, access to quality child care services and more focused time spent with parents can lead to better care and to positive education and health outcomes.
Women informal workers may have to take children along while they work, which can expose children to unsafe environments. Or they may leave children in informal care arrangements that are expensive and/or of low quality. Family members are not available to provide child care if workers have migrated, or if the grandparents also work. And in households where both women and men must work long hours to earn low incomes, families need solutions.
Listen
Rachel Moussié is Deputy Director of the Social Protection Programme at WIEGO and leads the Child Care Initiative. In this episode of our podcast, she discusses how the lack of quality child care contributes to gender inequalities in labour force participation and earnings and can lead to higher levels of poverty among women informal workers.
---
Learn More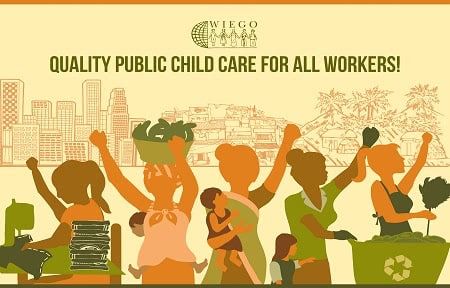 Learn how to join WIEGO's Child Care Campaign and find
advocacy materials in multiple languages to download and use.
Related Reading
When G7 leaders from Canada, France, Germany, Italy, Japan, the U.K. and the USA convened in June 2018, their discussions were influenced by recommendations from the G7's Gender Equality Advisory Council. Child care and other social protection provisions were key to these recommendations. Read more.